2020 Fantasy Football: Starts, Sits, and Sleepers for Week 11!
---
The season continues to creep along here and people are starting to clinch those playoff spots in their leagues! If you're one of them, congratulations! If you've still got some work to do to get a few wins before the playoffs to put yourself in prime position, well, that's what we're here to help with.
Each week here in this column, you'll find a start, a sit, and a sleeper for each position in fantasy football at the end of every week to get you options in your starting lineups. The starts will be players I typically have ranked higher than the consensus, the sits will be players I have ranked lower than consensus, and the sleepers will be lower ranked options that when the week is said and done, they'll be ranked much higher than initially thought.
ALSO, if you're in need of some start/sit advice on Sunday morning, myself and Gary Haddow will be co-hosting another show, called "Fighting Chance Kickoff" from 10AM to 11AM CT each week. We'll be sorting through the inactives, weather, start/sits, and the latest roster news to get your prepared for the week's matchups! We'll be putting up a tweet on Saturdays about submitting your starts/sits to us to answer live on the show, so keep tabs on us on Twitter @ktompkinsii, @garyhaddow1, and @FCFantasySports!
Now that we've gotten the housekeeping portion out of the way, let's get into the Starts, Sits, and Sleepers for Week 11!
QUARTERBACK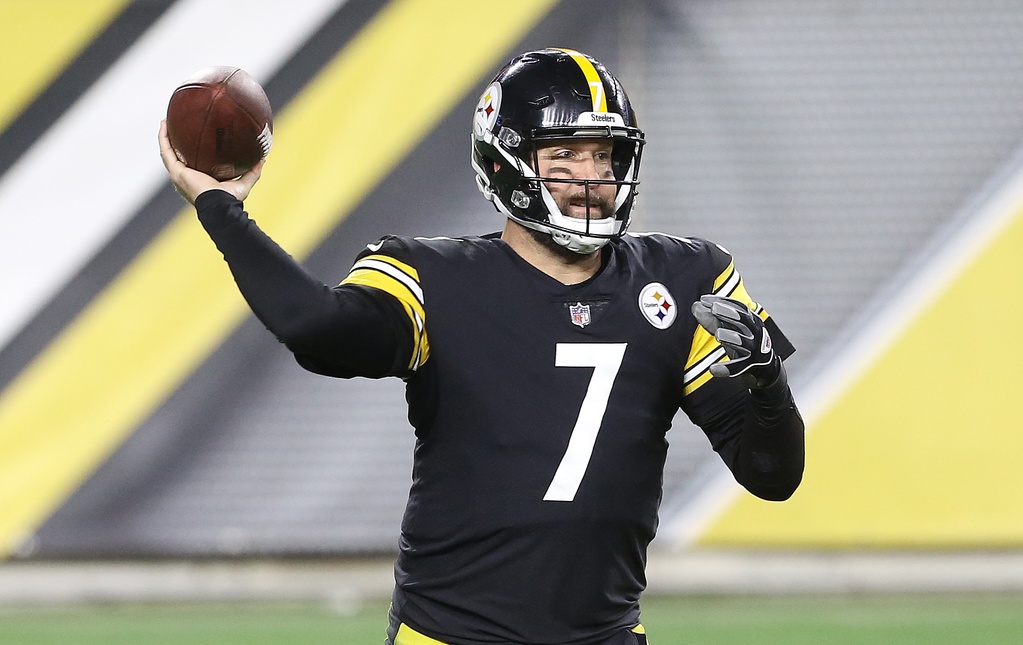 START Ben Roethlisberger, PIT @ JAX
⚫ QB3 in FCF Rankings, QB6 in FantasyPros ECR
The Steelers are pretty good, not sure if y'all know that but wanted to put that out there in case the 9-0 record didn't cement that fact. Currently QB12, Ben Roethlisberger has finished the last two weeks inside the top-seven at the position and looks to make it three in a row against the Jacksonville Jaguars. The Jaguars are in a class with the Atlanta Falcons and Seattle Seahawks in terms of their ineptitude versus the pass and the Steelers are more than happy to oblige.
In fact, the Steelers have played empty sets with a tight end on 22% of their snaps the last three weeks, which is honestly pretty astounding. They're preferring to pass the ball with their collection of fantastic receivers than to just pound away with James Conner and the run game. That's only going to benefit Roethlisberger in the long run and should pay off in the short term this week against the Jaguars. Ben is easily a top-five play at the position this week.
SIT Ryan Tannehill, TEN @ BAL
⚫ QB21 in FCF Rankings, QB18 in FantasyPros ECR
Just a few weeks ago, we were talking about the Tennessee Titans and how Ryan Tannehill could do no wrong since taking the Titans' starting quarterback job in Week 7 of 2019. How the times have changed.
In the span of these last four weeks, Tannehill hasn't finished as a QB1 and it doesn't get any easier this week against the stout Baltimore Ravens defense. This is a playoff revenge game for Baltimore from last season, and who also took a startling loss against a New England Patriots team that's clearly a shell of their former selves. The Ravens have to be just furious and waiting to take everything out on the Titans.
It's one thing if Tannehill is throwing a ton of passes and just not seeing volume go his way, but the fact is that he hasn't even thrown the ball more than 30 times in each of those four starts. So if we can't depend on volume in a bad matchup, that makes Tannehill a no-go for Week 11.
DON'T SLEEP ON Alex Smith, WAS vs. CIN
⚫ QB13 in FCF Rankings, QB21 in FantasyPros ECR
The feel-good story of 2020 in a year where the entire football world is starved for it, Alex Smith has done quite admirably given the circumstances around him and considering the gruesome injury that would have claims careers of countless other players.
That said, if Smith had even thrown ONE touchdown against Detroit last week to pair with his 390 yards passing, he would have been a QB1 and the fantasy community would be hyping him up more in this awesome matchup against the Cincinnati Bengals. Him throwing the ball 55 times is also very encouraging, so while we can't expect that every week, Smith's league-low aDOT of 4.8 yards per pass will even show up with a good amount of volume. Also in Smith's favor is the Bengals' second-worst pressure rate to opposing quarterbacks, so Smith should have plenty of time to survey and his accuracy should shine through too.
The Bengals have given up at least 297 passing yards and three touchdowns to opposing quarterbacks in three of their last four games and have allowed 2/3 of quarterbacks to face them to finish top-14 on the week.
I feel good about Alex Smith with some touchdown regression and a soft Bengals defense to get him QB1 numbers this week.
RUNNING BACK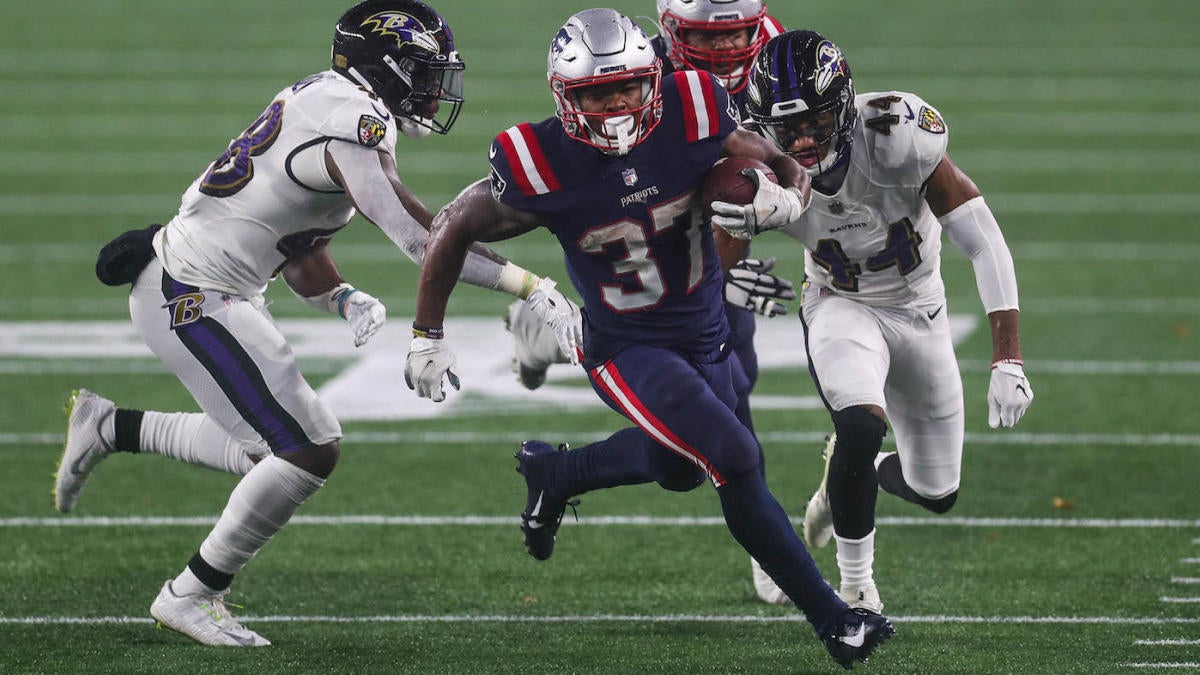 START Damien Harris, NE @ HOU
⚫ RB12 in FCF Rankings, RB18 in FantasyPros ECR
Here's a nugget here regarding Damien Harris - he's seen the highest average number of defenders in the box this season while still reeling off 5.5 yards per carry. I'd give you a counter-point, but the Texans have no counter for the run game. In fact, they're the worst team in the NFL in terms of allowing the most rushing yards. They let both the returning Nick Chubb and Kareem Hunt eclipse the 100-yard mark last week, so if there's a back to trust here, it's the former Alabama product Harris.
While yes, Harris isn't featured in the passing game, he doesn't need the pass-game work to return RB2 value at worst. He had his best game of the season against the normally stout Ravens' front, racking up 121 yards on 22 carries, so this should be a very healthy game for Harris to have an encore performance here.
SIT Todd Gurley, ATL @ NO
⚫ RB23 in FCF Rankings, RB16 in FantasyPros ECR
The ever-touchdown-dependent Todd Gurley comes off the bye ready to do battle with divisional opponent New Orleans, but the last four games haven't been very kind to him for the fantasy points outside of the four touchdowns he's amassed.
While he's received 20 carries on average in those four contests, he's only accrued 209 rushing yards in those 80 carries, for a 2.6 yards per carry. That's less than ideal. Fact is, his four touchdowns account for almost HALF of his fantasy production in that span. That's not something you can depend on week in and week out.
New Orleans has been a pretty solid front, especially against the run, where they have allowed the second-least fantasy points to the running back position this season. Depending on a touchdown here (in this economy?) is what you're hoping for, but with the way Gurley is running, negative regression looks to rear it's head here at the tail end of the fantasy season.
DON'T SLEEP ON Salvon Ahmed, MIA @ DEN
⚫ RB17 in FCF Rankings, RB28 in FantasyPros ECR
Think the San Francisco 49ers wish they had Salvon Ahmed right about now?
The Miami Dolphins were wise in their scouting and plucked Ahmed from the San Francisco practice squad a week before the 2020 season started and they made a great choice. Par for the course so far for the Dolphins under Brian Flores.
Ahmed saw seven carries in Week 9 and some predicted he would stay involved, but then last week, he received the lion's share of the work against the Chargers (21 carries, 85 yards, and a touchdown). Miami has stuck with one back and not made it a committee, so while it'll be interesting to see which University of Washington back the Dolphins decide to roll with between Ahmed and Myles Gaskin upon his return from injured reserve. Ahmed is absolutely in play this week against a Broncos' defense that has gone from one of the best rushing defenses to one of the worst in very short order. A rash of injuries has decimated the Broncos, so what was once a matchup to stay away from is now one to target.
You can pencil Ahmed in for 18+ touches in this matchup, with upside for more. He's also split 3rd down work with Patrick Laird, so Ahmed is at least involved in that facet of the game. Start him with confidence this week.
WIDE RECEIVER
START Tee Higgins, CIN @ WAS
⚫ WR7 in FCF Rankings, WR19 in FantasyPros ECR
Tee Higgins is turning into a star before our very eyes. He came for the dusty veteran A.J. Green's job and... well?
He took his jerb.
Tee isn't finished, he won't be until he's the alpha, and well, it's looking like he's going to be that for the next decade, just like Green was for so many years.
We're talking seven consecutive double-digit scoring weeks in PPR, only one of those weeks where he finished worse than a WR3. He's been remarkably consistent and taking advantage of the volume and negative game-scripts afforded to the Bengals this season.
For Week 11, he'll likely see Ronald Darby across from him when the Bengals head to Washington. While Washington has been very good against the wide receiver position (only two top-22 receiver games allowed, though one was last week against Detroit's Marvin Jones), I like the talent here and the fact that the Football Team will have to account for all three of the Bengals' receivers and not just one in Detroit that was missing their best receiver in Kenny Golladay.
Since Week 3, Higgins has been WR11 in PPR and I like him to at the very least match that and maybe add a little on top. He's my WR7 on the week, and this Burrow to Higgins combo will be around Cincinnati for a very long time.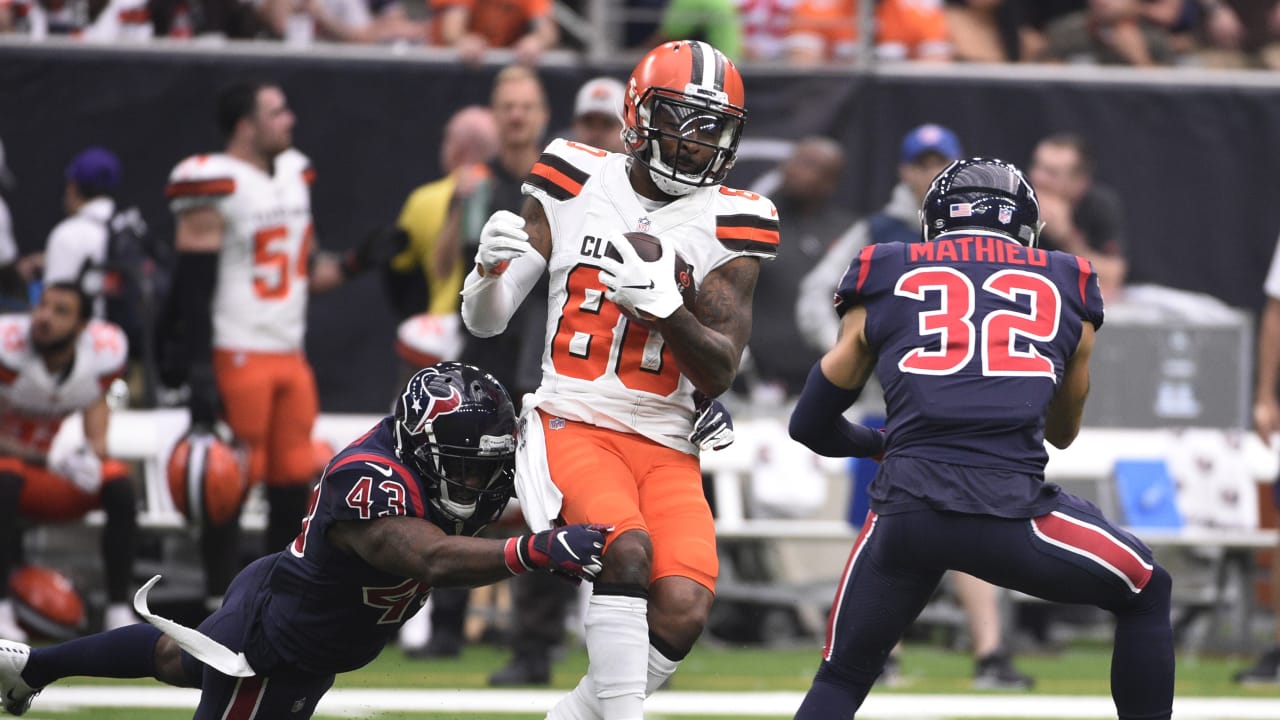 SIT Jarvis Landry, CLE vs. PHI
⚫ WR42 in FCF Rankings, WR35 in FantasyPros ECR
Whatever is up the weather, Cleveland has not been lucky in that regard, especially when it comes to the viability of their pass-catchers and that starts with Jarvis Landry.
While Landry has seen the most targets by far (16) with Odell Beckham lost for the season, the ceiling is just so low that he really only makes sense as a flex play these days. Add in the inclement weather (rain in the forecast all day) and it's just going to be a sloppy mess of a game in Cleveland.
Landry has not finished as another more than WR24 in any game this season, so in this murky weather and game environment where both teams will look to, dare I say, #establishtherun, Landry is not in consideration for me this week in my top three wide receiver spots, only in a flex spot would I feel comfortable with him.
DON'T SLEEP ON Jakobi Meyers, NE @ HOU
⚫ WR16 in FCF Rankings, WR31 in FantasyPros ECR
Jakobi Meyers has been on an absolute tear the last three weeks and who expected that one? It's not "Kalen Ballage" levels of peak 2020 but it's on the medal stand.
Let's go through the stats:
He's also 3rd in yards per route run too. And has a touchdown pass.
In Week 10, he's going to see shadow coverage from Bradley Roby and the Houston Texans, but the way Meyers is going, it may not matter. Damien Harris and Cam Newton's legs are keeping defenses honest so that Meyers can do his thing, but you have to think with this heavy volume, that touchdown regression is going to be on the side of Meyers one of these weeks. I love Meyers and think he's a league winner. As for this week, I like him as a mid to high-end WR2 with some more upside based on the previous few weeks.
Maybe he'll throw another touchdown pass like he did last week?
TIGHT END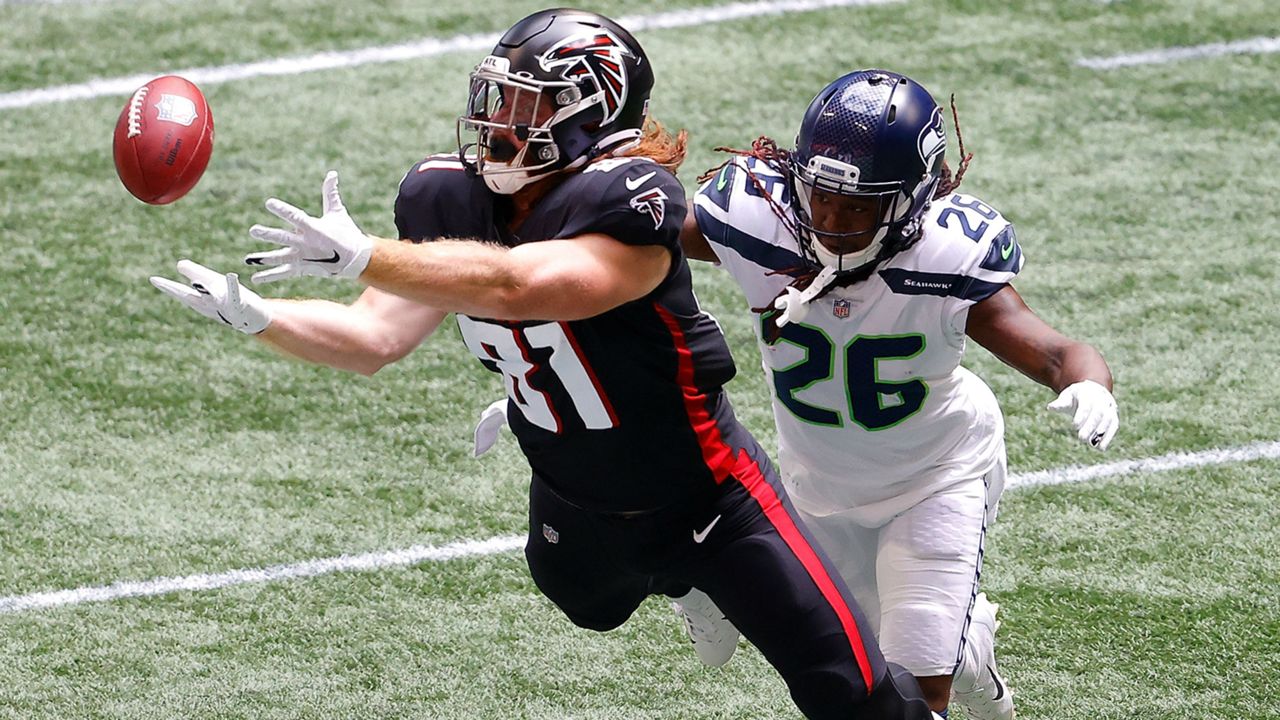 START Hayden Hurst, ATL @ NO
⚫ TE5 in FCF Rankings, TE8 in FantasyPros ECR
Don't look now, but Hayden Hurst has four consecutive 10+ PPR point outings and is a solid bet to make it five in a row against the New Orleans Saints. It's clear that it's taken some time for Hurst to get this system down, given the lumps he's taken at the beginning of the season. That's why they say patience is a virtue.
Simply put, Hurst hasn't finished outside the top-10 at the position since Week 6, so the floor is remarkably stable for the position outside of the top guys at tight end. Knowing what you can get weekly is a huge feat and one that shouldn't be taken lightly.
Also, Atlanta throws the ball. A lot. A LOT. They also could be down Calvin Ridley as he continues to heal from his mid-foot sprain. It also helps that the Saints give up the sixth-most fantasy points tight ends.
Hurst deserves to be started, especially this week in what could be a shootout.
SIT Mike Gesicki, MIA @ DEN
⚫ TE20 in FCF Rankings, TE14 in FantasyPros ECR
Three games, 11 targets, six catches, 90 yards for Mike Gesicki with Tua Tagovailoa installed at quarterback.
After about TE7 in fantasy football, every other tight end is lumped into the same tier, where you hope they just fall into the end zone. Gesicki hasn't scored since Week 3 and though Gesicki is seeing very healthy peripheral stats like his position-leading aDOT of 12.2 yards, it's just not translating into fantasy goodness we were hoping we'd see out of Gesicki in year 3.
Mixed in with Gesicki's other performances this season, he has four games with one or zero catches, so his floor is very close to zero. Even in that mix of streaming tight ends, Gesicki is very low on the totem pole for me in Week 11.
DON'T SLEEP ON Dalton Schultz, DAL @ MIN
⚫ TE11 in FCF Rankings, TE15 in FantasyPros ECR
Given the flux of the quarterback position for the Dallas Cowboys, it's easy to dismiss Dalton Schultz as somebody who would get sucked underneath the Andy Dalton/Ben DiNucci/Garrett Gilbert tidal wave.
Surprisingly, Schultz has stayed very relevant with 15 targets in his last two games and now gets a Vikings defense that has allowed double-digit scoring from tight ends in three of the last four games. With seemingly an upgrade at quarterback with the returning Andy Dalton, Schultz is definitely on the streaming radar and one I'd be fairly confident in starting more times than not.
You can find Kevin Tompkins on Twitter @ktompkinsii. and co-hosting both Fighting Chance Live! and Fighting Chance Kickoff on Sunday mornings with Gary Haddow, also of fightingchancefantasy.com. In Kevin's free time, he likes to draft wide receivers, ignore running backs until the 9th round, and snap up the occasional elite tight end.
---