2020 Fantasy Football: Starts, Sits, and Sleepers for Week 6!
---
Week 5 ended on a Tuesday, which was weird enough but then we had no Thursday game this week... I never thought I would ever miss a Thursday game but here we are, on a Friday night without an NFL contest fresh in our minds. Luckily, we're here getting you ready for the meat and potatoes of the Week 6 slate.
Each week here in this column, you'll find a start, a sit, and a sleeper for each position in fantasy football at the end of every week to get you options in your starting lineups. The starts will be players I typically have ranked higher than the consensus, the sits will be players I have ranked lower than consensus, and the sleepers will be lower ranked options that when the week is said and done, they'll be ranked much higher than initially thought.
ALSO, if you're in need of some start/sit advice on Sunday morning, myself and Gary Haddow will be co-hosting another show, called "Fighting Chance Kickoff" from 10AM to 11AM CT each week. We'll be sorting through the inactives, weather, start/sits, and the latest roster news to get your prepared for the week's matchups! We'll be putting up a tweet on Saturdays about submitting your starts/sits to us to answer live on the show, so keep tabs on us on Twitter @ktompkinsii, @garyhaddow1, and @FCFantasySports!
Now that we've gotten the housekeeping portion out of the way, let's get into the Starts, Sits, and Sleepers for Week 6!
QUARTERBACK
START Matthew Stafford, DET @ JAX
⚫ QB4 in FCF Rankings, QB8 in FantasyPros ECR
Now that Kenny Golladay is back in the fold for the Detroit Lions, we should start to see Matthew Stafford really light things up on offense as he did last season before he got hurt. The pace for both the Lions and Jaguars on a per-play basis are both top-ten in the NFL with two bad pass defenses on each side. This could be the shootout of the week and provide an optimal situation for fantasy scoring on Sunday.
Every quarterback who has faced the Jacksonville Jaguars this season either has had a 300-yard passing day or multiple touchdowns. Stafford's aDOT has risen each week of the season, from a 9.3 aDOT in Week 1 to an aDOT of 13.3 in Week 4.
In this very optimal matchup, Stafford is a near-lock for top-8 numbers at the position, and it wouldn't surprise me if he had 300 yards AND multiple touchdowns.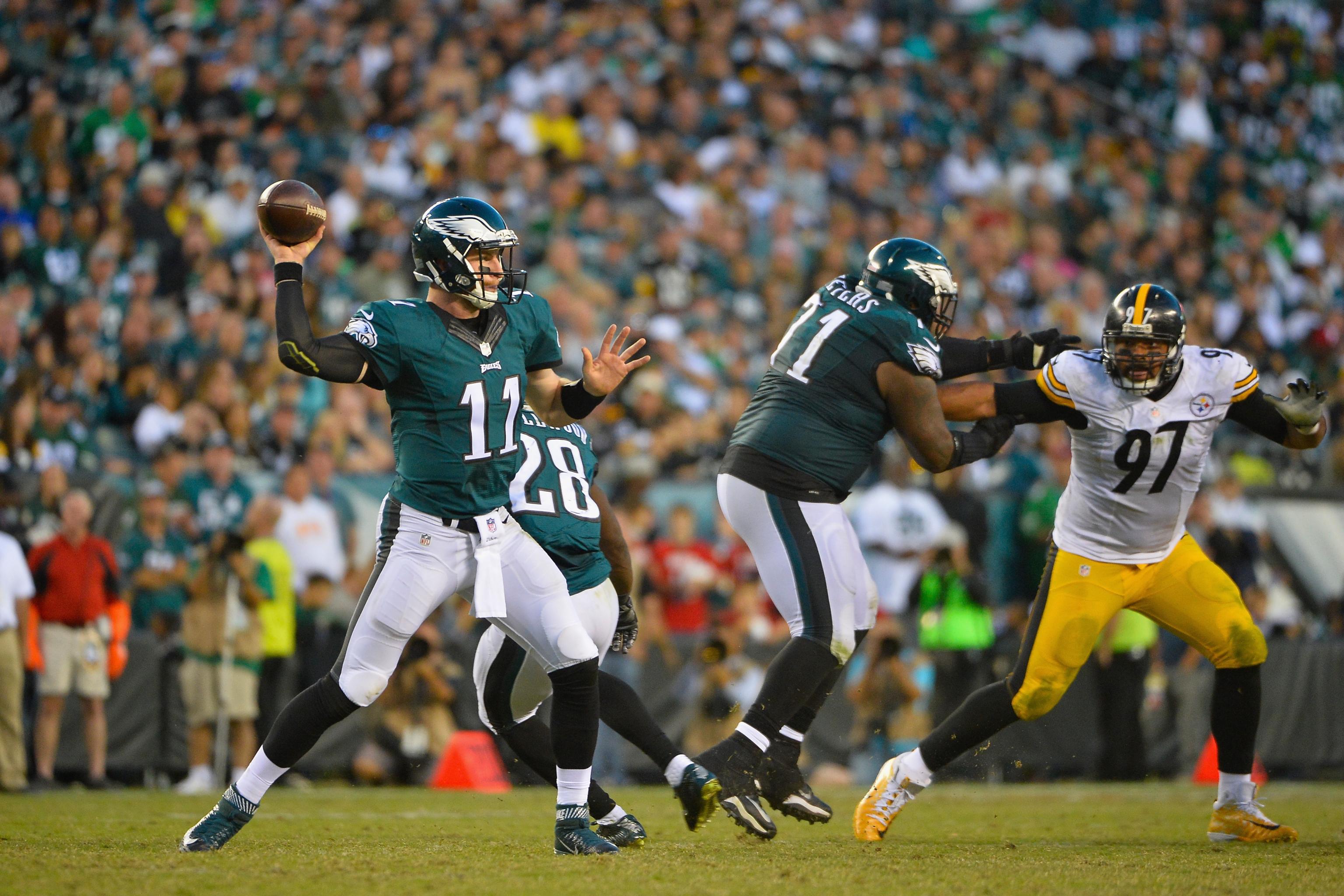 SIT Carson Wentz, PHI vs. BAL
⚫ QB21 in FCF Rankings, QB26 in FantasyPros ECR
Just in case the thought of getting cute at quarterback enters your mind now that the Eagles have found an option at "X" receiver in Travis Fulgham after his huge boom week last week in Pittsburgh (10/152/1), it's probably best to squash that thought. Carson Wentz enters Week 6 as QB14 but even at home, enters the lion's den against the Baltimore Ravens.
The Ravens have only allowed one quarterback all season to post multiple touchdowns against their defense and that is Patrick Mahomes. I'm checking my notes here and indeed, Wentz is no Mahomes.
We know the Eagles are beat-up on offense, with Philly looking for returns from DeSean Jackson, Alshon Jeffery, and Dallas Goedert in the next several weeks, as well as a potential return from 2020 first-round pick Jalen Reagor. Wentz is scrambling, Baltimore will make him scramble and put Wentz' second-highest off-target passing percentage to the test and hopefully force some turnovers.
DON'T SLEEP ON Ryan Tannehill, TEN vs. HOU
⚫ QB8 in FCF Rankings, QB12 in FantasyPros ECR
In the 14 games that Ryan Tannehill has started since being named the Tennessee Titans' starter in Week 7 of last season, all Tannehill has done is put up at least 21 fantasy points in 12 of those starts.
We (I) continually write Tannehill off as somebody whose efficiency is bound to regress to the mean we saw when he was in Miami. At this point though, we have to take what he's doing and appreciate it.
Tannehill has scored 27+ fantasy points in two of his last three matchups and now gets a Houston defense that has been just average. I'll side with the Titans side that has not only Jonnu Smith on a roll, but has A.J. Brown back in tow.
RUNNING BACK
START Alexander Mattison, MIN @ ATL
⚫ RB2 in FCF Rankings, RB3 in FantasyPros ECR
Alexander Mattison is absolutely set up to smash this week against Atlanta. You know it's a great sign when the Vikings feel they don't have to change their game-plan at all from Dalvin Cook to Mattison.
Running backs in the Gary Kubiak scheme are borderline unfair and Mattison should hit 20+ touches in what looked to be a fantasy-friendly and offensively skewed matchup for both teams. The Falcons allow the third-most points per drive in the NFL thus far in 2020 and four of five teams have scored 30 or more points against the Falcons so far. In addition, they haven't held a team under 80 rushing yards this season either.
We've always said that if something happened to Cook, that Mattison would be an easy top-6 running back going forward. This scheme, plus his talent, plus this bad defense = fantasy gold.
Get him in your Week 6 lineups.
SIT Mark Ingram, BAL @ PHI
⚫ RB35 in FCF Rankings, RB25 in FantasyPros ECR
While we know Baltimore runs the ball a ton, there isn't anybody that you're feeling confident in starting. This backfield is a three-headed monster with Mark Ingram, Gus Edwards, and the rookie J.K. Dobbins. As we're getting into the Halloween season, this is a backfield that would look great in a haunted house as it's truly scary for fantasy purposes.
This is an excellent real-world backfield but not one you'll hang your hat on to depend on. Add in the fact that their opponent, the Philadelphia Eagles, are pretty stout against the run, allowing only eight running backs to go over 15 fantasy points dating back to the start of 2019.
Ingram is a touchdown-dependent flex option. Without a touchdown, he's virtually non-existent.
DON'T SLEEP ON Damien Harris, NE vs. DEN
⚫ RB24 in FCF Rankings, RB28 in FantasyPros ECR
We saw Damien Harris go directly from IR to a 100-yard day on the ground in his first game of the season in Kansas City. For an encore? Well, Denver has been pretty solid against the run thus far in 2020, but with the attrition on offense and the nine-point favorite Patriots hosting them, the game-script should be in the favor of New England, who also gets Cam Newton back at quarterback following a positive COVID test.
While Newton is always a threat to vulture a rushing touchdown, there should be more than enough touches for Harris to be a quality start this week in a positive matchup.
WIDE RECEIVER
START Kenny Golladay, DET vs. JAX
⚫ WR6 in FCF Rankings, WR9 in FantasyPros ECR
With a very healthy 24% target share in his first two games before the Lions' bye week, Kenny Golladay gets to feast on a Jacksonville secondary that just allowed previously dusty Brandin Cooks to go off for 8/161/1. Golladay, one of the best deep-ball receivers in the NFL, has touchdowns in each of his two games back and looks to make it a third against a combo of the former Eagle Sidney Jones and seventh-round rookie Chris Claybrooks.
While Jones has played much better since leaving Philadelphia, he isn't going to have an easy job with Golladay and this offense. As we mentioned before, since Golladay has been back, the entire passing offense has been on an upward climb in terms of average depth of target, so that bodes well for high-leverage deep shots, which Golladay is one of the best in the league to come down with those 50/50 balls.
SIT Michael Gallup, DAL vs. ARI
⚫ WR39 in FCF Rankings, WR28 in FantasyPros ECR
We had such high hopes for Michael Gallup. He was a 6th round pick with much promise, thoughts of being in a three-headed combo with Dak Prescott and nobody could do any wrong.
Now we're in Week 6, Gallup has one game over five targets, one game where he finished better than WR38 in PPR on a given week, one game where he finished over 100 yards receiving, and one game with a touchdown. All of those things happened to be in the same game, in Week 3 against the most porous defense in the NFL against wide receivers.
Now we subtract Dak Prescott and add in Andy Dalton, who is a good quarterback in his own right, but no Prescott. I can't envision Andy Dalton making 3-4 pass-catchers relevant each week, so while Gallup was already on dire straits, he's likely going to turn into a touchdown-dependent flier from here on in, with so much competition for targets and a downgrade at the quarterback position.
Keep Gallup on your bench for now.
DON'T SLEEP ON Cole Beasley, BUF vs. KC
⚫ WR35 in FCF Rankings, WR44 in FantasyPros ECR
It all stemmed from a tweet...
Even if John Brown plays this week, the Monday night "early" game should be a high-scoring affair, with the highest over/under of the entire week (57.5). There should be plenty of opportunities for the Bills' pass-catchers to be very involved, including Cole Beasley.
It seems as though Beasley is continually overlooked and underappreciated every single season as a fantasy asset but in 2020, all he's done is score at least 11.3 fantasy points in his last four contests. For me, he's a perfectly viable WR3 with upside if John Brown plays. If he doesn't? He should be started in most leagues.
TIGHT END
START Jimmy Graham, CHI @ CAR
⚫ TE11 in FCF Rankings, TE14 in FantasyPros ECR
Outside of the top-10 at the tight end position, we look for any kind of upside in addition to hoping for a touchdown. Jimmy Graham hasn't been fantasy-relevant for a few years now, but Graham has made it back to grab a bit of that relevancy back, scoring in three of his five games thus far in the 2020 campaign.
Again, we're hoping he falls into the end-zone, but his red-zone targets percentage of 31.3% is an excellent indicator of what the Bears want to do once they get into the red zone: get the ball to the 6'7" former basketball player, Graham.
In a week where tight ends like Hunter Henry, Greg Olsen, Darren Waller, and Jared Cook are on bye, you can do much worse than slotting in Graham.
SIT Logan Thomas, WAS @ NYG
⚫ TE23 in FCF Rankings, TE17 in FantasyPros ECR
Logan Thomas (aka Logan Ballage) was getting a lot of early-season buzz and was even the late 1.01 for Matthew Berry in one of his final drafts of the offseason. Unfortunately, that hasn't translated into any fantasy goodness for this trendy offseason sleeper. Thomas was afforded opportunity and target share, but even with his 32 targets, he only has 14 receptions, one touchdown (in Week 1) and a whole lot of disappointment across fantasy football.
This week? Well, with the quarterback situation in flux for the Football Team and Thomas' targets taking a dip (eight total in the last two weeks after 24 in weeks 1 through 3), Thomas isn't anybody you can start right now despite a solid matchup.
DON'T SLEEP ON Irv Smith Jr., MIN vs. ATL
⚫ TE13 in FCF Rankings, TE17 in FantasyPros ECR
I poured one out for Irv Smith Jr., in Week 3 after he went without a catch and wasn't even targeted. Smith was one of my favorite sleepers heading into 2020 and it looked like he was going to get a clear shot at obtaining meaningful targets from the outset.
Fast-forward to Week 5, where finally, in a flash, Smith was targeted five times for a 4/64 line. The Falcons have allowed the most fantasy points to the tight end position so if there's a streamer that could pay immediate dividends, it's Smith. While he's still fighting Kyle Rudolph for snaps and targets, the upside to me is undeniable. Rudolph is the obvious "touchdown-dependent" option but with the athletic gifts passed down by his father Irv Smith, the former NFL tight end in the 1990's, the younger Smith has the upside for much more than touchdown dependency.
You can find Kevin Tompkins on Twitter @ktompkinsii. and co-hosting both Fighting Chance Live! and Fighting Chance Kickoff on Sunday mornings with Gary Haddow, also of fightingchancefantasy.com. In Kevin's free time, he likes to draft wide receivers, ignore running backs until the 9th round, and snap up the occasional elite tight end.
---