Dynasty Stashes: AFC East
---

Well now that dust has settled after the Super Bowl and Rob Gronkowski has ridden Space Mountain in Disney World a few times, it's time for fantasy football dynasty owners to kick things up a notch in their leagues. This is when the fun begins. From doing rookie research for upcoming rookie drafts, and watching the underwear Olympics (NFL Combine), to following the latest news of NFL free agents signings and players being traded, it seems like now is when the hardcore fantasy players come out and play.
One thing that each dynasty owner should do as part of their offseason preparation is to look over every team's roster including their own to see what players should be stashed or could be had at a bargain price. This series will give dynasty owners in deeper leagues some players to add during the offseason, that currently are rostered under 20% in ESPN fantasy leagues. I'll travel around the NFL to list a player or two from each NFL team that dynasty owners should be looking to get their hands on. The first division to explore is the AFC East.
AFC East
Gabriel Davis, WR - Buffalo Bills: 5.6% Rostered
All Gabriel Davis did in his rookie campaign is catch 35 balls on 62 targets for 599 yards and seven touchdowns. Not bad for a wide receiver who coming into the season would have been lucky to be considered as the fifth or sixth receiving option in the Bills offense. What really gave Davis the chance to shine was when John "Smoky" Brown missed a few games during the season because of various injuries. This helped Davis have additional opportunities to produce for fantasy owners. When he received at least four targets in a game, Davis provided double-digit fantasy points in seven out of nine games. Davis could probably be obtained for a fourth-round rookie pick in most dynasty leagues.
Preston Williams, WR - Miami Dolphins: 18.4% Rostered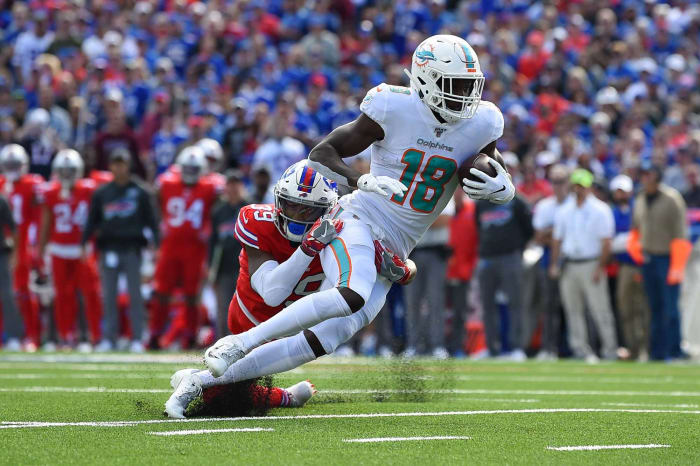 At the start of the 2020 season, it seemed like Preston Williams was stuck in the mud as he was coming back from a shortened 2019 NFL season due to a torn ACL. His first four games were forgettable as they come, with no double-digit fantasy points scoring games for dynasty owners. As he was starting to heat up for the Dolphins and establishing great chemistry with Tua Tagovailoa, he suffered a season-ending foot injury that required surgery in November. The four games prior to his departure Williams averaged 4.5 targets, 49.75 yards, and scored a touchdown in three of those four games. If the upcoming third-year wideout can stay healthy he may be in for a breakout 2021 season. Try and pry Williams from his dynasty owner in your respective leagues with a third-round rookie pick.
Lynn Bowden Jr., RB/WR - Miami Dolphins: 12.7% Rostered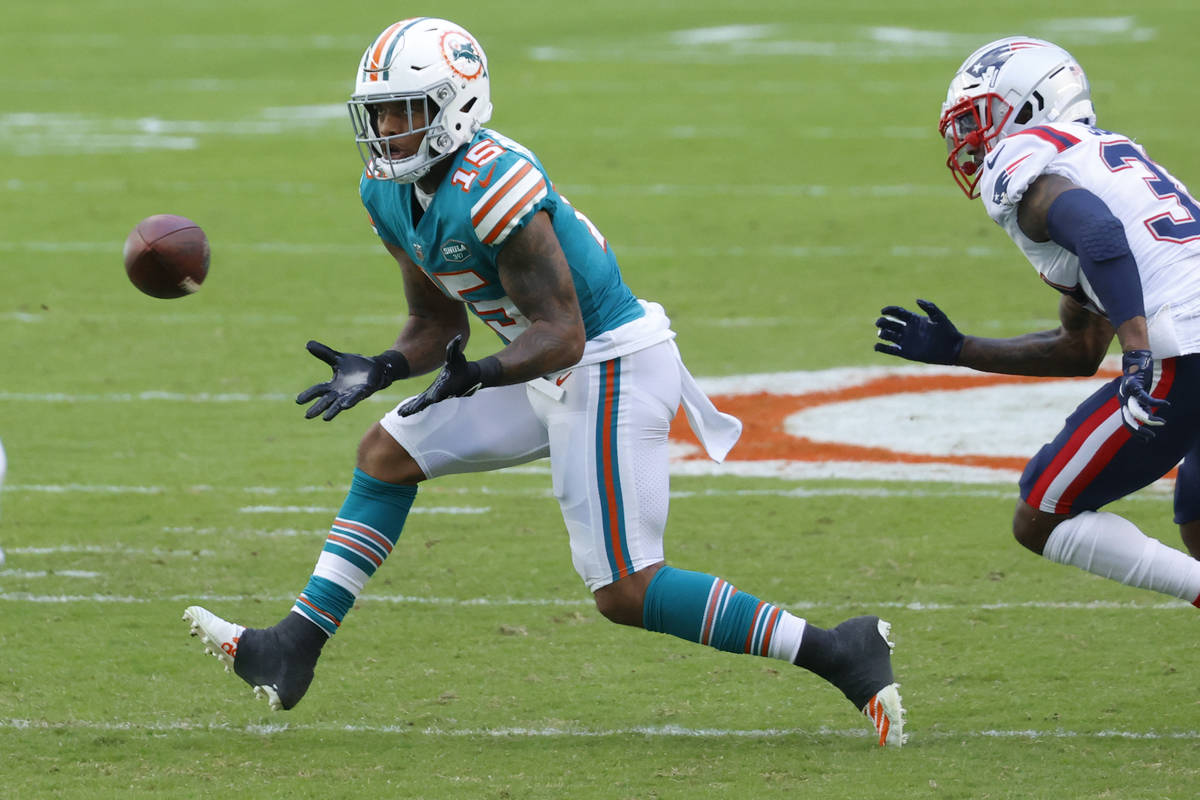 Can anyone say swiss army knife? The Dolphins acquired Lynn Bowden Jr. from the Raiders in the first half of last season. The third-round offense weapon, who played quarterback, running back, wide receiver, and returner was non-existent for most of the season for the Dolphins until he had a December to remember. After a rash of injuries to the Dolphins' wide receiving core, Bowden was injected into the Dolphins line-up and was able to give a boost to fantasy owners in deeper leagues. In his last five games of the season, Bowden totaled 27 receptions for 212 yards. This allowed Bowden to provide close to 10 fantasy points per contest making him a deep league flex play in the fantasy playoffs. The Dolphins are sure to add some firepower to their offense during the offseason but Bowden should be a stash in dynasty leagues to see how it all plays out during offseason workouts and training camp.
Sony Michel, RB - New England Patriots: 14.9% Rostered
After looking over the Patriots roster, I really wanted to skip this team altogether because there is not much young fantasy talent on the roster that is under 20% owned. The one player that may be intriguing as a super buy low option is Sony Michel. The running back has not been the poster boy for great health, but when healthy and given the opportunity to carry the load for the Patriots, Michel has been productive in the past. Michel missed seven games last season due to injury and splitting touches with the plethora of running backs on the Patriots'roster. Michel had a couple of 20 plus fantasy point outings last season which showed glimpses of his fantasy potential. Most fantasy managers are sure to be more than willing to unload the former Georgia Bulldog so if you're interested in kicking the tires you may be able to grab Michel for a third or fourth-round rookie draft pick for some added running back depth with the potential to give you a spot start from time to time.

Denzel Mims, WR - New York Jets: 5.6% Rostered

The player that sparks my interest the most in the AFC East that is under 10% rostered is Denzel Mims. He was M.I.A. in the first half of his rookie season due to a hamstring injury he suffered during training camp. For the season Mims produced 23 receptions for 357 yards. The wideout averaged 15.5 yards per catch which would have put him in the top 12 for receivers in that category, making Mims a nice big-play threat in the near future. All Mims really needs is some good quarterback play that will allow him the chance to shine. I'd be willing to give up a mid to late second or early third-round rookie draft pick to add Mims to my roster.
Stay tuned to Fight Chance Fantasy for not only the AFC North Dynasty Stashes but more dynasty content coming up in the near future, along with great fantasy coverage for hockey, baseball, and the English Premier League.
If you would like to discuss this article or have any fantasy or dynasty questions, you may reach me on Twitter @smooth1074.
---