Fighting Chance Fantasy Round Table Discussion (Fantasy Football Draft)
---
As we inch closer to the NFL season opener, fantasy football draft season is in full swing. The time is now to prepare and try to find any advantages you can as you head into your drafts, and Fighting Chance Fantasy has got you covered. Some of our staff writers recently got together to tackle some topics to help you find some potential firepower for your fantasy squads this season. If you missed our previous round table discussion you can check it out here Fighting Chance Fantasy Round Table Discussion. Now let us get up to the line because we're about to take off down the sidelines and get you ready to score in your upcoming drafts.
Which rookie will have the biggest fantasy impact this season?
Tyler Allgeier, RB, Atlanta Falcons
Atlanta is looking like this year's pre-season version of the 2021 Jacksonville Jaguars. A few talented pieces, and a first-round rookie running back with a so-so line in a relatively weak division. Could we see another rookie runner in the ATL blow-up? With Cordarrelle Patterson coming off a unicorn season, and Damien Williams playing a short-yardage full-back role, Tyler Allgeier can seize the lead role quickly in what could be another long season in Atlanta. If we see Allgeier start strong and the WR corps looks suspect, Patterson could slide over into a WR role making Allgeier's ceiling possibly close to RB1 range. Fantasy Pros ADP is RB56 and Overall 157th, making Allgeier basically free for the taking at the end of your draft.
- Matt Miles @DirtyAirFC

Drake London, WR, Atlanta Falcons
Hard to argue any rookie making a bigger impact on his new team than Drake London. The worst-kept secret in football was Atlanta's desire to add an impact receiver after the team announced its star Calvin Ridley would be serving a year-long suspension. London finds himself on a young offense who could garner north of 120 targets and a 1000-yard season is definitely in play. London will erase any doubts about his speed and separation with superior ball skills, especially down in the red zone.
- Michael Chasco @ChascoFantasy
Chris Olave, WR, New Orleans Saints
While I think it is clear that Drake London has the easiest path to a high target share, and that Breece Hall will be the most used rookie running back, I still think Chris Olave will be the most impactful rookie. Currently, the Saints have Michael Thomas, Jarvis Landry, and Alvin Kamara as their non-Olave targets. Each of those pass-catchers tends to have a lower average depth of target which will give them each a nice floor. However, their quarterback is gunslinger Jameis Winston who drools at the thought of throwing the deep ball. We know Chris Olave is a fantastic route runner and will be peppered with the intermediate to deep targets. Given Michael Thomas hasn't been healthy for two years, I am expecting Olave to become the alpha wide receiver for this team, and be the most impactful fantasy rookie this year.
- Gary Haddow @Haddow27

Travis Etienne, RB, Jacksonville Jaguars
While "technically" not a rookie after pre-season Lisfranc Surgery last season, and yes I'm wimping out on this one since Travis Etienne never saw an actual snap during regular season play last year. With James Robinson still dinged up after Achilles Surgery, young Travis is the bell cow in Jacksonville. I'm actually feeling positive about this, as Trevor Lawrence is a second season in, and most of us not expecting much out of them anyway, this could be a ripe orange on the tree. Beware though, he's being drafted as the 24th RB / 61st overall player, so plan on an early investment, but plenty of touches.
- Polka Pat @polkapat
Breece Hall, RB, New York Jets
I will let Britt continue to beat the Treylon Burks drum as she has the entire offseason, as for me I will go with Breece Hall. The table is set for Hall to go wild in the Jets offense this season. Hall has the collegiate resume to back up the giddiness that fantasy managers have heading into the season. In three seasons, Hall compiled 3,941 yards rushing and 50 touchdowns on the ground while also doing damage in the receiving game and bringing in 82 receptions for 734 yards receiving and another six touchdowns. Not only has Hall proven to be a dual threat on offense but he also has the draft capital with the Jets taking him at the top of the second round of the NFL Draft. Don't let Hall get past you in the fourth round because you may regret it come season's end.
- Leo G. @smooth1074
Breece Hall, RB, New York Jets
This is an unexciting, yet easy answer for me. Given the importance of the running back position and how often rookie RBs do well fantasy-wise, it makes a lot of sense to choose the first RB picked in this year's draft. The Jets traded up to select Hall proving that the team believes heavily in his skillset and should look to make him a focal point of the offense. Combine that with a talented young offensive line and a potential leap in play from 2nd year QB Zach Wilson, and you've got a guy with all the pieces in place to potentially produce as a top 12 RB in all fantasy formats.
- Seth Q. @SethQuinn14
Treylon Burks, WR, Tennessee Titans
It's no secret that I think Treylon Burks is in the best position to succeed. He had a stellar 2021 season against top competition, and by all accounts, he's doing very well in training camp. The Titans are a lower-volume passing offense, but with the loss of two offensive linemen in David Quessenberry and Rodger Saffold, the system may change a bit.
- Britt @Britt_Flinn
Jalen Tolbert, WR, Dallas Cowboys
Simply by volume alone, I believe Jalen Tolbert makes a fantasy splash this season. With Amari Cooper and Cedrick Wilson leaving behind the bulk of those targets, Tolbert has a chance to step in and see a lot of looks. With an ADP of 170 on Sleeper, you are taking a flyer on someone who could be an integral part of an important offense. Not even mentioning the Michael Gallup and James Washington injuries that propel him into the second spot in the Dallas pecking order. The bottom line is Dak Prescott needs pass-catchers, and with Ceedee Lamb getting doubled Tolbert can make the most out of one-on-one situations.
- AJ @fft_aj
What player are you avoiding drafting this year?
Dak Prescott, QB, Dallas Cowboys
No one wants to talk about it, but Dak Prescott is way overpriced at his current QB7, 66th overall Fantasy Pros ADP. Losing several players from the once elite o-line, coupled with losing Amari Cooper to the Browns and possibly Michael Gallup to injury at the beginning of the season, I just can't see paying for Dak at essentially his ceiling. I'd rather take Jalen Hurts right here (QB8/68 overall) or draft for floor in Brandin Cooks or a ceiling play like Allen Robinson in this range. Even Tom Brady at 89th overall at QB11 would be a better choice than Prescott.
- Matt Miles @DirtyAirFC


Nick Chubb, RB, Cleveland Browns
One of the most puzzling mysteries in fantasy is why Cleveland is so reluctant to give Nick Chubb a three-down role. Even when Kareem Hunt went down with an injury last year the Browns still were not featuring the 26-year-old back in the passing game. As much as I love the combination of speed and power from Chubb, I'm way more inclined to invest important draft capital on fantasy stars like Stefon Diggs, Javonte Williams, or even Mark Andrews at the same ADP.
- Michael Chasco @ChascoFantasy
David Montgomery, RB, Chicago Bears
I am drafting David Montgomery less because I don't like him as a player, and more because I love Khalil Herbert's value. The Bears' offense and line are most likely going to be terrible, which doesn't bode well for any Chicago running back. Monty has had to deal with this for a few years, and in 2020 put up a great fantasy finish. Then in 2021 due to injuries and struggles Montgomery finished as a back-end RB2. Now, in 2022, there are reports that David Montgomery is working on special teams, under a new coaching group, and with Khalil Herbert who looked amazing last year - see the Bears v Bucs game. There are WRs that are far more intriguing than where Montgomery is being drafted, and I prefer the value of Herbert will be the 1b in this offense.
- Gary Haddow @Haddow27
Miles Sanders, RB, Philadelphia Eagles
Before I rattle off all my negatives, let me say Miles Sanders is playing for a contract this season. Now the bad news, he's only managed to play 12 games each of the past two seasons because he's frail. His attempts have continued to drop since his rookie season with 179, 164, and 137 last year, injuries will do that. He is also with a running QB in Jalen Hurts, and he will also lose carries to Boston Scott and Kenneth Gainwell. Should I go on? Certainly, I will, in that dismal usage Sanders only averaged 11.4 carries last season and 2.8 pass targets per game...stinky! I don't want him, you can have him, he doesn't produce enough for me at his ADP, 66th overall/RB 28.
- Polka Pat @polkapat
Gabriel Davis, WR, - Buffalo Bills
At Gabriel Davis' current NFFC ADP of 62, there is no shot in hell of me pulling the trigger and taking him in any of my upcoming drafts. I know many are high on Davis this year, but with him coming off the board in the sixth round, I'd much rather take players like Elijah Moore, Rashad Bateman, or JuJu Smith-Schuster in the same range, because they have more upside in my opinion. Also in this area of the draft, you can still grab an elite quarterback like Kyler Murray, Russell Wilson, or Dak Prescott which are quarterbacks that you can just set it and forget it for the entire season.
- Leo G. @smooth1074
DJ Moore, WR, Carolina Panthers
I know plenty of other people like DJ Moore, but I personally don't. While yes, he consistently puts up good yardage, he just has no upside to me given his situation. Currently being taken as WR15 on Underdog, Moore now has Baker Mayfield instead of Sam Darnold, which while I do think is an upgrade, it's not enough of an upgrade to make me excited. I do think Moore is a good receiver, I just think there are numerous other receivers going after him that I'd prefer, like Courtland Sutton, the top receiver in a better offense, or Allen Robinson, the second receiver in an elite offense. If you are looking for a top receiver on a bad team, you are better off waiting for guys like Diontae Johnson and Brandin Cooks.
- Seth Q. @SethQuinn14

David Montgomery, RB, Chicago Bears
I really don't want any part of David Montgomery. Chicago has one of if not the, worst offensive lines in the league this year, and the reports of Montgomery working on special teams and the team's praise of Khalil Herbert make me think that Monty's touches are going to be cut back from previous seasons. There are better options you can take in the fourth round.
- Britt @Britt_Flinn
Hunter Renfrow, WR, Las Vegas Raiders
Someone I've left zero drafts with this season is Hunter Renfrow. Yes, I hear all the chatter about Josh McDaniels and how he has been made famous for highlighting slot receivers. My argument for that is that Davante Adams ran more routes from the slot last season. While I don't think at all that the slot is strictly Davante's, I believe he will at least cut into Renfrow's routes making the volume he had last season unrepeatable. There are too many plates to fill in Vegas for Renfrow's to be full.
- AJ @fft_aj
What Tight End are you looking to draft later in fantasy drafts, that can take the leap into the top ten of the position?
Albert Okwuegbunam, TE, Denver Broncos
If I'm looking at late TE in standard redraft leagues, chances are I'm likely looking at the process over product. In other words, I'll be streaming over pinning my hopes on one name. In a case like this, I'm looking at spike week potential, and I like Albert Okwuegbunam because Denver has a nice schedule to start the season. If I were to more directly answer the question of at season's end who could be in the top 10, I'd say Logan Thomas. Thomas gets a check-down QB in Carson Wentz in a division that has historically been in the bottom half of defending the TE position.
- Matt Miles @DirtyAirFC
Pat Freiermuth, TE, Pittsburgh Steelers
Volume is king for this position and if I miss on the top five TEs in Travis Kelce, Mark Andrews, Kyle Pitts, George Kittle, and Darren Waller, I'm taking a shot at Pat Freiermuth. Last season, Freiermuth hauled in 60 receptions on 79 targets and he could be in line for a 100-target season despite all the uncertainty at quarterback. Freiermuth also scored six touchdowns in a seven-game span last year so give me the volume and touchdown upside in the double-digit rounds.
- Michael Chasco @ChascoFantasy
Austin Hooper, TE, Tennessee Titans
After two dismal seasons in the armpit of the United States, Austin Hooper is ready to break out. He had a very productive career as an Atlanta Falcon. I see him getting back to a 70/750/8 line this season under the watchful eye of Ryan Tannehill. On a team that boasts run, run, run, a quality pass-catching TE is another luxury in Nashville, and I'm drafting him everywhere this year. My TE3 in Scott Fish Bowl 12, and I'm betting he will contend with T.J. Hockenson on my team for TE1 honors.
- Polka Pat @polkapat
Cole Kmet, TE, Chicago Bears
The door is wide open for Cole Kmet to make a splash into the top ten this season for the Bears. With Kmet ranking in the top-12 amongst tight ends in targets (eighth), target share (11th), yards (12th), and air yards share (11th), while basically only having Darrell Mooney ahead of him in the pecking order, the tight end will have an excellent opportunity to be a top ten tight end fantasy producer this season for fantasy managers.
- Leo G. @smooth1074
Cole Kmet, TE, Chicago Bears
Cole Kmet seems like the obvious answer. He should be the second receiving option on the team and has a young quarterback who in theory should rely on a tight end as a security blanket. If Justin Fields plays up to his potential, he could have a much better season (especially with Matt Nagy gone) which means Kmet should improve both from a target rate standpoint and a target efficiency standpoint. If you believe in the potential of the Bears' offense like I do, then Kmet has an intriguing upside.
– Seth Q. @SethQuinn14
Evan Engram, TE, Jacksonville Jaguars
Cole Kmet is my favorite late-round tight end, but I like to take at least two when I'm punting on the position, and right next to Kmet I end up taking Evan Engram. Fully indoctrinated into the tight end learnings of Andrew Cooper (@coopafiasco) when I am looking for a tight end I want two things: 1. As few blocking snaps as possible, and 2. High probability to be a top two target on their offense. Kmet and Engram both meet each of these criteria. Now in Jacksonville as the clear TE1, and with Trevor Lawrence at QB and Doug Pederson at the helm I see a high likelihood that Evan Engram will significantly outperform his ADP TE20.
- Gary Haddow @Haddow27
Hunter Henry, TE, New England Patriots
I really love Hunter Henry and think he is being way undervalued in ADP. Last season, he was Mac Jones' security blanket in the end zone, finishing second among all tight ends in touchdowns and I look for more of the same in Jones' second year. We don't want to count on touchdowns for year-to-year success, but the rapport between Henry and Jones makes me think lightning could strike twice.
- Britt @Britt_Flinn
Irv Smith Jr., TE, Minnesota Vikings
Irv Smith Jr. is going to turn heads this season, you heard it here. With the addition of pass-heavy coach Kevin O'Connell, and the continuity on offense this team should be fun to watch. With Kirk Cousins never finishing below QB-13 in a fully healthy season the quality looks will be there. Smith is only 23 years old and while coming off a significant injury is concerning, the talent is there without a doubt. He is best suited right now as a backup or a late-round option if you're streaming tight end. All I'm saying is don't be surprised when Smith is the TE-1 out of Minnesota for years to come.
- AJ @fft_aj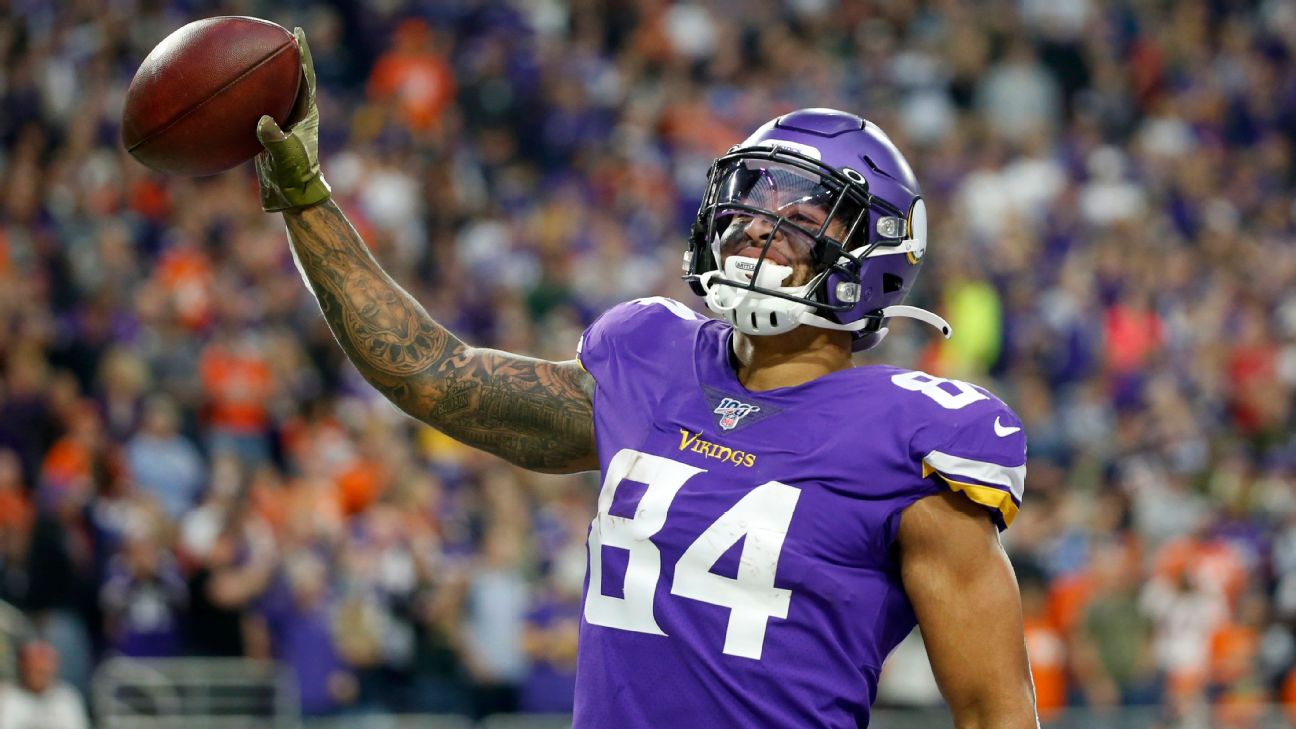 What player do you think will return to fantasy glory after having a disappointing season last year due to an injury or underperforming?
Robert Woods, WR, Tennessee Titans
The easy answer is Saquon Barkley. He was looking good before his freak ankle sprain. He's a talented back and I think we see a renaissance with the downtrodden Giants. I could cite a bunch of stats to support it, but many writers better than me have already talked about it. The harder answer is Robert Woods. He's the guy with AJ Brown out of town. If healthy, a weaker AFC South with a decent QB in Ryan Tannehill could vault Bobby Trees back into the borderline WR1 conversation.
- Matt Miles @DirtyAirFC
Tyreek Hill, WR, Miami Dolphins
One guy I'm consistently smashing the draft button for at the 1/2 turn-in best ball is the Cheetah. Last year, Tyreek Hill exploded for an 11-reception, 197-yard performance against the Browns in the season-opener, but only topped 100 yards twice more all season. Now that he's been traded to the Dolphins, I'm expecting a huge bounce back from the 28-year-old speedster. Defenses can't just focus on Hill and his dynamic speed and forget about Jaylen Waddle on the other side of the field which will make the Dolphins a tough assignment for any defense. Can Tua support two 1000-yard receivers? I'm willing to find out at a discount.
- Michael Chasco @ChascoFantasy
Lamar Jackson, QB, Baltimore Ravens
It's all good news for Lamar Jackson, and after missing the last four games last season, I'm expecting Beast Mode 2.0 this season from him. This is also the last year of Lamar's rookie contract. He's added 15 pounds of muscle, which suits his bruising style of running and running often. Expect another 1000-yard rushing season, even with J.K. Dobbins back in the mix, this will save some beating Lamar would take, now that he has a bona fide stud back there with him. Sure he lost Marquise "Hollywood" Brown, but to have that nickname you have to perform, and I was never impressed with Brown, and now he's Kyler Murray's problem. Now Rashod Batemen is the number one WR, and of course, Mark Andrews will vie for top mouths to feed in Baltimore, but it's Lamar's show boys and girls.
- Polka Pat @polkapat
A.J. Brown, WR, Philadelphia Eagles
After posting back-to-back 1,000 yards seasons and averaging 9.5 touchdowns in his first two seasons, A.J. Brown disappointed plenty of fantasy managers with his mediocre performance. With Ryan Tannehill coming back to Earth and having a poor year behind center, and Brown dealing with a few injuries, the stud receiver only tallied up 869 receiving yards and five touchdowns. Not good for fantasy managers who took Brown as their WR1 last year. Now in 2022 comes a new and fresh start for the talented wideout who got traded to Philadelphia and will be teaming up with Jalen Hurts. These two are good friends off the field and have spent a lot of time together getting their timing down during the offseason. Look for Brown to return to glory and at a discount with him coming off the board at the end of the third round.
- Leo @smooth1074
Darren Waller, TE, Las Vegas Raiders
While he may end up with fewer targets this season, I think Darren Waller is an intriguing bounce-back candidate. Waller was good last season but given his ADP good didn't cut it. However, I think Waller has a chance to be great this season mainly due to the acquisition of Davante Adams rather than the opposite effect occurring. I think Adams will draw a ton of defensive attention, just as Waller has in the Raiders' offense the last few seasons, which will help improve efficiency both per reception and in the red zone. Even if Waller isn't a target hog, he should still be the second receiving option in an elite offense led by a new head coach and offensive genius Josh McDaniels, and be given plenty of opportunities in one-on-one coverage. That should lead to more big plays and more touchdowns for one of the most talented tight ends in the league.
– Seth Q. @SethQuinn14
Christian McCaffery, RB, Carolina Panthers
I'm going with the layup here, but sometimes people need to remember that Christian McCaffery (CMC) is AMAZING. CMC is incredible at football and that means fantasy football too. He is a total stud, easily worthy of the number one overall pick in any format. And what's even crazier is you can get him in the 2-6 range depending on your league mates. If he plays all 17 games then he should be the odds-on favorite to be the top non-QB fantasy asset (possible top including QB!).
- Gary Haddow @Haddow27
Allen Robinson, WR, Los Angeles Rams
It has to be Allen Robinson, right? Last season he had health issues for part of the season, and in addition, he had to deal with Matt Nagy as his coach. Brutal. This year, he has a fresh start with the Rams, and reports from training camp are very positive. He has top-10 talent, and even competing with Cooper Kupp, he could be a low-end WR1.
- Britt @Britt_Flinn
Russell Wilson, QB, Denver Broncos
Shocked I'm the one who has to go for the low-hanging fruit in Russell Wilson. We were all expecting Russ to cook per usual, last season until he lost his sizzle. It was the first time in Wilson's career that he missed more games than just the bye week, and still achieved high-end QB-2 status. Wilson has never had such a well-rounded team on both sides of the football so it should bring the 12th-year veteran to a level he hasn't seen in a couple of years. With an easy start and hard end to the season, trading Wilson to a QB-needy team might be your best bet.
- AJ @fft_aj
Which playe
r will see his ADP rise as we get closer to the season opener?
Michael Thomas, WR, New Orleans Saints
Michael Thomas has already started to shoot up in just the past 2 weeks. As of today, he's at WR33/80th overall putting him at the back 1/3rd of the 6th round. Is the talent still there? Can Jameis Winston get him the ball? Is Thomas even going to play? Personally speaking, I'll need to see at least a few preseason game snaps, but the chances we even see him play before September are slim. It's a name recognition thing, but if Thomas does anything positive, it seems like he jumps a few more spots, and likely will be hanging around the top of the 5th round by the end of August.
- Matt Miles @DirtyAirFC
Dameon Pierce, RB, Houston Texans
I wouldn't dare pick Treylon Burks out of respect for Britt. Pierce was criminally underused playing on a Florida team who eventually fired head coach Manny Diaz last December. Pierce is walking into a thin backfield and could factor into a significant role if he finds early success in camp. The last time Marlon Mack factored in a fantasy season was in 2019, and we know who Rex Burkhead is heading into his 10th season in the NFL. So once we get into live preseason action, Pierce will stay on the field more than the average rookie with his skills as a pass protector, kick returner, and runner between the tackles. I wouldn't be shocked to see his ADP rise by the time we get to September. If we learned one thing from James Robinson in 2020, you can find fantasy gold on bad teams so don't let that hold you back from taking him in the same tier with fellow rookies James Cook and Tyler Allgeier.
- Michael Chasco @ChascoFantasy
Cam Akers, RB, Los Angeles Rams
In my humble opinion, this Matt Stafford elbow issue is so inviting for Akers and Henderson that I believe the Rams are going to run their way to the playoffs. Akers has had all off-season to get even stronger, and by mid-season, he will be seeing 18-25 touches a game...easily. After seeing him come back so early from this injury and play in the playoffs (dismally) last season, Akers still showed me how dedicated he is to healing and playing. Plus, if this Stafford news gets any worse, Akers's draft stock will go even higher than his current ADP of 25 overall. He's had all off-season to get "In the best shape of his life" and with time to heal even longer and build the necessary strength and muscle Akers will carry this team to a deep playoff run.
- Polka Pat @polkapat
Wan'Dale Robinson, WR, New York Giants
The easy answer for this one is Saquon Barkley but I'm actually going to go with one of his teammates. In this past NFL Draft, the Giants used their second-round pick to draft Wan'Dale Robinson, a wide receiver playmaker out of Kentucky. This means he was hand-picked by the new coaching regime In his last season with the Wildcats Robinson blew up for 104 receptions, 1,334 yards receiving, and seven touchdowns. The talented wideout even rushed the ball seven times for 111 yards showing he can make big plays when given the chance. Now his current ADP is at 243 which means he is probably going undrafted in most leagues or as a late-round flier. Now that training camp has started Robinson is turning heads on a daily bases, and wait until you see him in-game action. New Head Coach Brian Daboll can't wait to unleash his new toy on the NFL and his ADP will be on the rise as the summer progresses. You may want to draft Kadarius Toney as well, because he may be in store for a huge year if he can stay healthy.
- Leo G. @smooth1074
Romeo Doubs, WR, Green Bay Packers
Based on recent camp reports, I could see Romeo Doubs climb up draft boards as the season approaches. With all the uncertainty in a receiving corps catching passes from Aaron Rodgers, it seems like there are numerous possibilities for who ends up starting. I believe Doubs will get plenty of opportunities to show what he's got in the preseason, and if training camp reports are any indication of preseason play, Doubs could shine, making many believe he could be a huge value in fantasy drafts as a potential starter in a great offense. Whether that is really true or not will be interesting to find out once the season gets started in early September.
– Seth Q. @SethQuinn14
JuJu Smith-Schuster, WR, Kansas City Chiefs
Patrick Mahomes has a new top wide-receiver target and it's JuJu. The highlights alone from training camp will provide the confirmation bias that JuJu is "back." Travis Kelce is 33 years old, and JuJu is only 25. I will personally be "reaching" for JuJu in my drafts to ensure I get him on as many rosters as I can. We forget how good JuJu is, and we over-inflate how bad he was. He still finished as a mid-WR2 when he was healthy, and that was with a not-so-great Big Ben. Now he has Mahomes, no Tyreek, and a bunch of questions mark behind him (other than Kelce). JuJu is about to skyrocket up draft boards.
- Gary Haddow @Haddow27
Skyy Moore, WR Kansas City Chiefs
Skyy Moore will probably see a hefty bump before the season starts. During the off-season, everyone was debating between JuJu Smith-Schuster and Marquez Valdes-Scantling being the WR1 on this offense, but it could very well be Moore. They're lining him up in the backfield, giving him deep targets, and he even sits behind Patrick Mahomes in team meetings to ask questions about the system. Once people see him in action in the preseason, he's going to turn some heads.
- Britt @Britt_Flinn
Ezekiel Elliott, RB, Dallas Cowboys
Ezekiel Elliott should see a rightful jump in his ADP due to Jerry Jones coming out and saying he is still the focal point of this offense. Elliott was off to a hot start in 2021, but he was derailed by a PCL injury that never caused him to miss time, but altered his production that's for sure. Dallas is thin at WR so their best path to winning is on the ground through Elliott and a good mix of Tony Pollard. Even with an injury Elliott still found a way to be productive inside the 10-yard line with 7 scores on 18 carries. That proves Elliott is still a true number one back when healthy, and ADP will catch up to that soon enough.
- AJ @fft_aj
Let us know which rookie you think will have the biggest fantasy impact this upcoming season, and which player will rise in ADP as we approach the heart of the draft season. You may reach contact us on Twitter at @FCFantasySports.
---