Fighting Chance Fantasy's Roundtable Discussion (Fantasy Football 2022)
---
With the pieces falling into place after another wild NFL offseason, several Fighting Chance Fantasy staff writers wanted to take on important questions to help get fantasy managers ready to kick some ass in their upcoming fantasy drafts. We evaluated the trickle-down effect of all the new faces in new places and dissected which players have either gained or lost value due to these changes. So without further ado, kick back, relax, and enjoy the ride.
Which quarterback that is currently being drafted outside the Top-15, will be a Top-10 quarterback by the season's end?
Jared Goff, QB, DET
I'll start this out with a solid homer pick, and go with what they call golf in England - Goff! Yes, Jared Goff will be my call, the Lions did something last year I do not remember seeing them do since Wayne Fontes was coach, play a full 60-minute game. Amon-Ra St. Brown (coolest name in the NFL) was a huge surprise as a possession WR last season. The addition of rookie burner Jameson Williams, whom they traded up for, will open things up. D.J. Chark could be a very solid 800-yard guy if healthy, but will most likely end up closer to 450 yards. T.J. Hockenson also helps this passing game a ton, and after a year in the same system, this year these players will have most kinks worked out.

- Polka Pat @polkapat
Justin Fields, QB, CHI
Justin Fields CHI (QB18/122) at QB18 is the best bet to hit the top 10. Fields started to get some confidence with four straight top 12 finishes to end his rookie campaign in 2021. Fields rushed an average of 35 yards per game last season, matching the rookie seasons of Cam Newton, Josh Allen, and Robert Griffin III. Newton and Allen both were top 6 QBs in their second seasons. Fields also has a great schedule to start the season, including a Week 1 tilt with the 49ers, whom he rushed for 100 yards on last season.
- Matt @DirtyAirFC
Justin Fields, QB, CHI
Currently going at QB16 on Underdog ADP, my favorite ADP to analyze, Justin Fields should have a much better and more consistent sophomore season. With no more Matt Nagy sabotaging his development (whether on purpose or by accident, who knows?) Fields should be put in a much better position to succeed this season. He also has solid but unproven weapons in Darnell Mooney and Cole Kmet, both of whom have shown flashes of talent making them capable of helping Fields succeed. As long as Fields is allowed to be the dual-threat QB his athleticism should permit him to be, his upside is for sure top 10.
- Seth Q @SethQuinn14
Tua Tagovailoa, QB, MIA
With the arrival of Head Coach Mike McDaniel and plenty of talent around him, Tua Tagovailoa has the best odds to end the season as a Top-10 QB. Going as QB 17 on Underdog drafts, Tua has the opportunity to pay off his ADP and add QB 1 potential to your roster at a discount. A healthy Tua comes with tremendous upside because of the yard-after-the-catch abilities of Jaylen Waddle, and Tyreek Hill. In addition to that Tua distributes the ball at an efficient rate (67.8 completion pct.), so getting easy quick passes to his dynamic playmakers won't be an issue. If Tua is healthy and the Dolphins coaching staff is as advertised a QB 1 season is on the horizon.
- A.J. @fft_aj
Tua Tagovailoa, QB, MIA
There are no more excuses for Tua Tagovailoa this year. Other than a sensational rookie performance from Jaylon Waddle, Tagovailoa had no other weapons to throw the ball to in 2021. Will Fuller and DeVante Parker were either nonexistent or injured all year long. The running game and offensive line play were big piles of crap. This year the Dolphins brought in Tyreek Hill and Cedrick Wilson to shore up the receiving corps. They improved the offensive line and brought three veteran running backs to compete for touches. Tagovailoa was on target just over 63 percent of the time on pass attempts over 20 yards. Now that he has some serious talent in the 305, the third-year quarterback should hover over 4,000 passing yards and 30 touchdowns come this fall, finally making it "Tua Time".
- Leo @smooth1074
Jameis Winston, QB, NO
Jameis Winston is my bet to sneak into the QB1 tier in 2021. Last season, before he went out with his ACL injury, Winston was QB14 in fantasy points per game. While that doesn't seem like anything special, he did this with arguably the worst receiving corps in the league and was throwing the fewest attempts per game during that span. He also drastically improved his TD: INT ratio, only throwing three interceptions in eight games. This season, Winston gets a new head coach, as well as a stout core of receivers in Chris Olave, Jarvis Landry, and, presumably, Michael Thomas. There's also the possibility that running back Alvin Kamara gets suspended for at least six games, forcing the Saints to shift to a more pass-heavy offense. At QB20, Jameis Winston gives you tremendous upside.
- Britt @Britt_Flinn
Kirk Cousins, QB, MIN
Almost unbelievably, Kirk Cousins has been a QB1 in 5 of the last 7 seasons, including somehow forgettable finishes of overall QB5 and QB6. Since 2015, he boasts the NFL's 4th best TD: INT ratio (205:72), trailing only Tom Brady, Aaron Rodgers, and Russell Wilson in that efficiency metric.
This offseason Minnesota replaced run-heavy head coach Mike Zimmer with pass-happy Rams offensive coordinator Kevin O'Connell. Last year under O'Connell, Matthew Stafford had a career year, finishing as the QB5, breaking the Rams franchise passing yardage record, and tying another Rams record with 41 TDs. O'Connell's boost to the Vikings' passing offensive could deliver Kirk Cousins that same level of a career year.
- Matt @FFMadJester
Which player that changed teams during the offseason will have the biggest fantasy impact in the upcoming season?
Allen Robinson, WR, LAR
Did you ever hear the saying "The Rich Get Richer?" Well, it has happened to the Super Bowl Champions. Allen Robinson had a shitty season last year, which means at 28, he's going to go bananas this season, just seems to be his deal. Cooper Kupp is the top mouth to feed here, and with Robert Woods in Tennessee, Allen Robinson is ready for blast-off. Robinson has put up some great fantasy seasons with very cruddy quarterbacks and offenses, and I see 70/1000 as a ceiling for him this season if the balls bounce right. Woods averaged 7.7 targets last season when healthy, and I like Robinson way more in this up-tempo pass offense.
- Polka Pat @polkapat
AJ Brown, WR, PHI
I think the AJ Brown move to Philadelphia will make the biggest fantasy impact, but not for Brown. Dallas Goedert (TE8/80 overall) is going to be the biggest beneficiary this season from the move putting him in the top 3 TE conversation. Brown and Devonta Smith will demand CB attention, and safeties will have to decide on shadowing Hurts/Reagor/Goedert. With a schedule heavy on lower 1/3 defenses against TE play in 2021, Brown might ignite Goedert's career in Philly.
- Matt @DirtyAirFC
Russell Wilson, QB, DEN
#LetRussCook Russell Wilson to the Broncos should have a huge fantasy impact, not just on his value, but plenty of others as well. Over the years he has helped sustain two fantasy-relevant receivers, meaning Jerry Jeudy and Courtland Sutton seem to be in line for bounce-back seasons as long as they stay healthy. Javonte Williams and/or Melvin Gordon should also benefit efficiency-wise from a more competent passing attack. On the contrary, Tyler Lockett is likely the biggest loser from this trade, as he was seemingly Russell's favorite target with the Seahawks. With D.K. Metcalf it's hard to tell his value given how talented he is and his confusing trends with Wilson and Geno Smith, but Pete Carroll's run-heavy approach will likely limit his upside anyways. Essentially, the entire Broncos offense is trending up, while the entire Seahawks offense is trending down.
- Seth Q @SethQuinn14
Amari Cooper, WR, CLE
The Cowboys trading Amari Cooper to the Browns (for a box of raisins I might add), just might be the turning point in Ceedee Lamb's already promising career. With the losses of Cedrick Wilson and Cooper, Lamb becomes the frontrunner to dip into the 205 targets they left behind (26% TS). Lamb going as WR-6 might be a little rich, but the upside is too immense to pass up on. Year 3 is the perennial breakout year for young wideouts especially ones who are gifted after the catch as Lamb is. Between wide receiver room departures and injuries, Lamb has the opportunity to reach an elite level of productivity this season.
- A.J. @fft_aj
Russell Wilson, QB, DEN
Let Russ Cook, Let Russ Cook, Let Russ Cook! That's what all Broncos fans should be chanting in 2022. Russell Wilson has been finally released from his shackles and gotten a ticket out of Seattle. Wilson has plenty of weapons at his disposal with Courtland Sutton, Jerry Jeudy, Albert Okwuegbunam, Tim Patrick, Javonte Williams, and Melvin Gordon. That is a pretty sick offense right there my friends. New offensive-minded head coach Nathaniel Hackett will look to unleash Wilson's arm on the NFL, which for some odd reason Pete Carroll has reluctantly failed to do and seemed to always want to not let Wilson air it out.
- Leo @smooth1074
Allen Robinson, WR, LAR
Allen Robinson left a sour taste in his fantasy managers' mouths last year, but now he gets a fresh start with the Los Angeles Rams. He gets an upgrade in nearly every aspect from Chicago, and even though he'll be playing as the second option at wide receiver behind Cooper Kupp, there will be plenty of opportunities. The Rams played the most 11-personnel in the league at a whopping 82.4% in 2021, and they supported two top-12 receivers before Robert Woods tore his ACL. Woods is now with the Titans, and Odell Beckham has yet to be re-signed, so Robinson will have an immediate role as WR2 with the Rams. He's being drafted around WR22 at the moment, and he can be a fringe WR1 by the end of the year.
- Britt @Britt_Flinn
Marquise Brown, WR, ARI
Former Raven Marquise "Hollywood" Brown left one of the run-heaviest offenses in the NFL this offseason and his new situation is juicy. With Christian Kirk gone and Deandre Hopkins suspended through week 6, Hollywood's only target competition for the first half of the fantasy regular season will be underwhelming sophomore WR Rondale Moore and aging veteran TE Zach Ertz. Marquise Brown is already one of the best in the league at earning targets. His outstanding 26% target share over the last two years is top 10 in the league and he's looking to reignite the chemistry he's already shown with QB Kyler Murray when they played together at Oklahoma.
If you're skeptical of his ceiling, just look at his hot start last year. He was the overall WR6 until the Ravens' week 8 bye. During that stretch, Hollywood profiled as the primary receiving weapon next to stud TE Mark Andrews and had a solid rapport established with his mobile QB Lamar Jackson. That happens to perfectly describe his new landscape in Arizona with Ertz and Kyler. I expect a career year and WR1 performance from Marquise Brown.
- Matt @FFMadJester
After all the off-season activity, what player dropped in value in your eyes?
Tyreek Hill, WR, MIA
Tyreek Hill, Hands down! Don't get me wrong, I love that he's getting paid what he's worth, but going from Kansas City to Miami is like going from the adult table to the children's booth. As a WR he's a premadonna, to begin with. Add in the fact the Miami WR Corps has the toughest strength of schedule for wide receiver units in the NFL this season and things start to feel bad for me in sunny Miami. The addition of Chase Edmonds will only open so much space in the running game and they may run out of gravy before it gets to the kid's table.
-Polka Pat @polkapat
Dak Prescott, QB, DAL
Dak Prescott (QB7/61 overall) is going as the 7th QB off the board in a QB run during the 5th round. His QB9 finish last season despite having a top-2 offensive line isn't too inspiring. Prescott rushed for a career-low 131 yards last season. The Cowboys lost La'el Collins and Connor Williams on the line and Amari Cooper from their WR corps, and Michael Gallup will likely be on the PUP list through training camp. The QBs being drafted after Prescott are Jalen Hurts, Tom Brady, Aaron Rodgers, and Russell Wilson, and I'd prefer almost any of them over Dak this season.
- Matt @DirtyAirFC
Michael Carter, RB, NYJ
After a solid rookie season, Michael Carter was swiftly replaced by likely workhorse back Breece Hall in the Jets offense. With a lot of young up-and-coming talent all over the offense, Michael Carter had a great opportunity coming into this year to reach even higher heights than an RB3 as a sophomore. Unfortunately but understandably, given his 4th-round draft capital, the Jets felt a need for a replacement and drafted Breece Hall in the 2nd round after trading up in the draft. Given his better draft capital and the amount the Jets gave up to get him, it's highly likely Breece Hall's presence will reduce Michael Carter to nothing more than a handcuff rather than a possible RB2 with upside for more. Carter's ADP currently sits at RB46, a far cry from where he likely would've been without the Jets drafting Hall.
- Seth Q @SethQuinn14
Jaylen Waddle, WR, MIA
In 2021, Jaylen Waddle was a huge beneficiary of his teammates' missing time. DeVante Parker missed seven games and Will Fuller only played 65 snaps all season. Now with the additions of Tyreek Hill, Cedrick Wilson, and Chase Edmonds the target share is not in Waddle's favor. Although Waddle is a great YAC receiver, you need as many looks as possible to be productive that way. Waddle's ADOT was 7.0 yds meaning he needed to create all his big-play opportunities after the catch. Unlike Hill who can be a lethal deep threat, and YAC machine. All in all, I'm not expecting another season that productive out of Waddle, a WR3 finish is looking like his most likely outcome in my eyes.
- A.J. @fft_aj
Cooper Kupp, WR, LAR
This one might not go over easy with the fantasy community, but Cooper Kupp has to have some kind of productivity regression from last season right? Well the arrival of Allen Robinson II will sure be the culprit of this thought. After years of having mediocre quarterbacks throwing him the ball, Robinson will finally have a legitimate quarterback on the other end of those passing attempts. Kupp is currently the number one wide receiver coming off the board in the first round of fantasy drafts and I don't think he will produce such gaudy numbers two years in a row especially with A-Rob in LA. Not to mention those 19 touchdowns are surely to be unattainable once again. Furthermore, rumors are swirling around that the Rams will be bringing back Odell Beckham Jr. this Fall. Now I'm not saying to fade Kupp, I'm just mentioning that his value has taken a hit and that fantasy managers should temper their expectations from his video game numbers from last season.
- Leo @smooth1074
Tyreek Hill, WR, MIA
It has to be Tyreek Hill, right? There's no arguing his talent, but he's going from a team with the best quarterback in the league with the second-most pass attempts last year to Miami, a team that figures to be run-heavy, and the jury is still out on Tua Tagovailoa's efficiency as a quarterback. Miami ran the fewest 11 personnel grouping in the league last season at just 28% of their offensive plays, and with Mike McDaniel at the helm, that doesn't look to change. Hill will be competing with Jalen Waddle and Mike Gesicki for targets, and with Tua's arm strength, he could very well rely on those two underneath rather than risking downfield targets on Hill. He's still going around WR8 in most drafts, and there are just too many unknowns to feel confident about him as a WR1 on your fantasy team.
- Britt @Britt_Flinn
What running back that is currently being drafted outside the top-20 has the chance to be a league winner?
Damian Harris, RB NE
Damian Harris (RB31/79 Overall) rushed for over 1000 yards while being banged up for most of last year. Harris had six rushing touchdowns in the last three Patriot games alone...yes, please! As a 30-year fantasy RB addict, I'll be drafting Harris as often as possible. I love New England to still grind hard and put up solid numbers with Mac Jones in year two of this offense. With Rhamondre Stevenson eating into some carries, I still love this running back and draft price. If you're going WR heavy or take the QB/TE early route, Harris is a solid #2 and upside of a number one.
-Polka Pat @polkapat
Melvin Gordon III, RB, DEN
Melvin Gordon III (RB36/90 Overall) is going at RB36, 90th Overall according to Fantasy Pros ADP. Gordon was 8th in missed tackles and 16th in goal-line carries last season. Having a second-year back in Javonte Williams might hurt, but the Broncos are likely to keep using a 50/50 split, especially with Gordon's near-elite efficiency. Gordon is a solid value in the mid-7th, especially if you drafted early TE or QB.
- Matt @DirtyAirFC
A.J. Dillon, RB, GB
Currently going as RB25 on Underdog ADP, A.J. Dillon has so many paths to surpassing that level. He has the chance to score a bunch of touchdowns, catch a surprising amount of passes, or get more carries than expected. All of those things are easily possible to happen, and that's not even taking into account the possibility of starting RB Aaron Jones getting injured. Dillon served as a solid RB2 while backing up Aaron Jones last season. However, with limited pass-catching options for Aaron Rodgers after the departure of Davante Adams from Green Bay, I believe Aaron Jones will be used more in the slot, and A.J. Dillon will get more carries. Dillon is built like a truck, so he should also get plenty of goal-line opportunities. Given the combination of the relatively high floor and upside, Dillon can easily be a league winner at RB this season.
- Seth Q @SethQuinn14

Travis Etienne Jr., RB, JAX
After missing out on his rookie season due to suffering a season-ending Lisfranc injury in training camp, Travis Etiene Jr. is ready to blow up this year. With James Robinson still recovering from his Achilles injury and a possible early-season stint on the PUP, the door is wide open for Etienne who is currently the 22nd running back off the board, to take over this backfield and never look back. Etienne is already turning heads in Jaguar's camp and new coach Doug Pederson is licking his chops on how he's going to use his new toy.
- Leo @smooth1074
Chase Edmonds, RB, MIA
Chase Edmonds (RB-36 on underdog) will have a ton of win shares this season. Edmonds is going to Miami with a chance to lead a potentially potent offense in touches. Edmonds who specializes in chunk plays (4th in the NFL in 10+ yard rushes), and catching the football (5+ targets in 9 games last season) has the opportunity to be Tua's safety valve. One of the most significant battles Edmonds faces is staying healthy. Although Edmonds had career highs in touches and yards last season he still missed 5 games. With Edmonds going at the front of the 10th round the risk isn't too great with the reward being tons of volume and RB-2 upside.
- A.J. @fft_aj
J.K. Dobbins, RB, BAL
I love J.K. Dobbins. Yes, I know there is uncertainty around his ACL recovery, but by all accounts, he will be ready to go for the start of the season. During his rookie year, despite playing behind lead back Mark Ingram, Dobbins accumulated 805 rush yards on just 134 attempts for a monstrous 6 yards per carry, nine touchdowns, and 120 receiving yards. Baltimore lost Marquise Brown in the offseason, leaving Mark Andrews and unproven second-year player Rashod Bateman as the top two options in the passing game, so it's likely they shift back to a top-3 team in rush attempts. They also bolstered their offensive line by getting the number one center in the draft, Tyler Linderbaum, as well as guard Daniel Faalele, so Dobbins should have plenty of protection. It will likely still be a committee approach, but Dobbins has too much week-to-week upside to be ignored.
- Britt @Britt_Flinn
Elijah Mitchell, RB, SF
Blazing 4.3 speed, impressive field vision, a nose for the end zone, and Kyle Shanahan's shocking reliance on Mitchell as a true bell-cow RB when healthy made him one of the best backs in the league on a per-game basis last year. Health concerns may be what's keeping Elijah Mitchell's ADP so low, but if he stays healthy and performs at the level he has a league-winning ceiling, especially at his cost.
- Matt @FFMadJester
What wide receiver that is being drafted as a WR4 or WR5 has a chance to become a weekly starter in the second half of the season?
Donovan Peoples-Jones, WR, CLE
Donavan Peoples-Jones (DPJ) (WR-68/138 Overall) This may just be the case of the last man without a seat on the bus out of town. DPJ, had a sporadic season last year, but now is poised to start opposite new addition, Amari Cooper. Although it looks like he'll be without starting QB Deshaun Watson, it's not as bad as it seems. The Browns have a decent defense, and two stud running backs and that alone will open options for whoever is the quarterback. DPJ has the speed for days and this is his third year, and back in the day, the third year was the breakout year for most wide receivers.


- Polka Pat @polkapat
KJ Osborn, WR, MIN
KJ Osborn (WR71/187 overall) showed flashes when Adam Thielen was out last year for 4 weeks. His stats were solid WR2 numbers: 47 targets 15 receptions for 222 yards and 3 Touchdowns. Irv Smith back healthy may impact these numbers, but should Thielen start to show he's wearing down at age 32, Osborn certainly has the usage and trust to be a weekly WR2.
- Matt @DirtyAirFC
Robert Woods, WR, TEN
While he may start a bit slow with a new team and coming off a torn ACL, I'm intrigued by Robert Woods at his WR49 ADP on Underdog. With the departure of A.J. Brown, it will be interesting to see how the Tennessee passing attack evolves next season. Unless Treylon Burks pulls a Ja'Marr Chase and immediately turns into an elite wide receiver straight out of the draft, I think once Woods gets settled in, he will become the WR1 for a team with a solid quarterback in Ryan Tannehill, and a fantastic running game with Derrick Henry to force more players in the box, opening up passing lanes. Burks may be the upside pick in the Tennessee passing attack, but Robert Woods is the more proven option from a production standpoint, and can easily be a consistent WR2/3 for any fantasy team by the end of the season.
- Seth Q @SethQuinn14
DeAndre Hopkins, WR, ARI
This one is pretty simple, when you have DeAndre Hopkins currently being drafted as a WR4 due to his six-game suspension, draft him around the fifth to sixth round and weather the storm for six weeks. After that Hopkins will be a WR1 for you for the rest of the season. If you are looking for another wide receiver in this range that could blow up this season Kadarius Toney is your man.
- Leo @smooth1074
Robert Woods, WR, TEN
Tearing your ACL takes your fantasy relevance away for the remainder of the season, but I'm a believer in bouncebacks (even for 30-year-olds). Everyone seems to think it's over for Robert Woods with his WR-50 ranking on Underdog. The Titans have no proven pass-catchers besides Woods, so he has a cheap volume play at the absolute least. In the last 5 seasons, Woods has recorded 1,981 YAC (5th in the league in that span). At an ADP of 100, you are taking a 9th-round gamble on someone who could be the Titans' most trustworthy player. Woods has the volume and upside to be playable all the way to the championship.
- A.J. @fft_aj
Chris Olave, WR, NO
Chris Olave has a chance of not only starting in the second half of the season, but I think he has a chance of ultimately finishing as the best receiver on the Saints. He's extremely fast, a very crisp route-runner, and, let's face it, Jarvis Landry and Michael Thomas aren't exactly spring chickens. It may take him a few weeks to get up to speed in the NFL, but he could end up having the same kind of year as Justin Jefferson did his rookie season.
- Britt @Britt_Flinn
Who's your favorite sleeper for 2022?
Allen Lazard, WR, GB
Allen Lazard (WR123/226 Overall) is just too good of an opportunity to "pass" up! Pun intended also, with Davante Adams and Marquez Valdes-Scantling both out of town, Lazard has a chance to grab the bull by the balls and kick those punks off-campus...wait, sorry that's Animal House. Lazard is in an excellent spot though as the best returning WR on the Green Bay squad. Around him are a bunch of scrubs and journeymen brought in to compete for crumbs. There's no way I'd be sweating freaking Sammy Watkins either. It's your world, Mr. Lazard, we just live in it!
- Polka Pat @polkapat
Jalen Guyton, WR, LAC
Jalen Guyton (WR 114) is a nice sleeper on an offense not afraid to chuck the ball and in a division where the potential for high scoring exists weekly. If you follow coach-speak, Head Coach Brandon Staley has given Guyton some high praise in mini-camp, noting that Guyton looked good moving around in various roles. Although he has Josh Palmer to pass on the depth chart, the special team's work and continuous improvement through training camp may give Guyton a solid look later this season should injuries arise.
- Matt @DirtyAirFC
DeVante Parker, WR, NE
He's a bit injury prone, but I'm excited about DeVante Parker this year. He showed signs of being enticing in fantasy with the Dolphins, but now going to the Patriots intrigues me. In year two Mac Jones should be even better, and Parker is the tall receiver the Patriots desperately lacked last year. Parker from a sheer talent level should be the WR1, making him a great value as a late-round pick. Currently going as WR64 on Underdog's ADP, I wouldn't be surprised if DeVante Parker served as a WR3 with upside for more at least on a per-game basis.
- Seth Q @SethQuinn14
Brevin Jordan, TE, HOU
I'm going deep into the rabbit hole to find this sleeper. If fantasy managers decide to wait on drafting a tight end, Brevin Jordan is the tight end they should be contemplating taking at the tail end of their drafts. In the second half of his rookie season last year, Jordan produced four games where he had productive games for fantasy managers after not playing the entire first half of the season. I see more of that production for the entire season in 2022.
- Leo @smooth1074
Van Jefferson, WR, LAR
Van Jefferson (WR-65) put up a modest 50-802-6 in just his second season. Matthew Stafford has taken this receiving corps to a new level and Jefferson is in for the ride. The departure of Robert Woods and Odell Beckham Jr. sets up Jefferson as the WR3 for the Super Bowl champs. Even with the addition of Allen Robinson, Jefferson should have plenty of opportunities to showcase his talents this season. An ADP of 139 (11th round) is a little low considering the production from last season, and the caliber of offense Jefferson is in. Although Jefferson isn't expected to be a league-winner this season, grabbing him at ADP could be sneaky value for the 3rd year wide receiver looking to make that jump.
- A.J. @fft_aj
Tyler Allgeier, RB, ATL
I can't seem to get away from Tyler Allgeier. Few, if any, rookies fell into a better situation to start immediately than Allgeier did on the Falcons. Yes, it seems gross to take any running back in Atlanta, but there is no one else on that team who can function as a power back. Cordarrelle Patterson is pretty much locked into a pass-catching back role, and he's ancient in running back years, making the possibility of injury higher than most. Aside from that Allgeier is competing with his fellow octogenarian, Damien Williams for touches. In his last season at BYU, Allgeier put up over 1,600 yards and 23 touchdowns with a YPC average of 5.8. He's currently going at an ADP of 143.29 across platforms, and you really can't ask for a higher upside guy there.
- Britt @Britt_Flinn
Kirk Cousins, QB, MIN
I see Kirk Cousins beating his ADP by a wider margin than any other player in fantasy this year. The last time Justin Jefferson, Adam Thielen, Irv Smith, and Dalvin Cook were on the field at the same time was the second half of the 2020 season. Cousins was the overall QB3 during that stretch. He'll enter the year with that same arsenal of receiving weapons, all healthy, but on a more explosive offense that will see a drastic uptick in the passing game under the new head coach. Build your powerhouse roster around other skill positions and patiently wait to draft a top 5 QB with a QB15 price tag.
- Matt @FFMadJester
What player are you claiming to be "your guy" and will try and draft that player on most of your teams this year?
David Montgomery, RB, CHI
I'm sure this pick will come back to bite me in the rear as I've had David Montgomery in a few leagues the past two years, and he tickles my satchel enough to make me want more, and then he gets hurt. Monte, let's play a full slate this year, the Bears RB has the second-best strength of schedule, and playing the Lions twice does help that I'm sure. Khalil Herbert will cut into a few carries, but this is Montgomery's show and will be the screen pass security blanket Justin Fields will need when he decides to pass.
- Polka Pat @polkapat
Dallas Goedert, TE, PHI
I don't do the "my guy" thing because it just sets up expectations, but I hope to end up with a lot of Dallas Goedert (TE 8/80 overall) because I believe he's ready to take a Darren Waller type of leap in 2022. When looking at other players in the back half of round 6, JuJu Smith-Schuster is the only other player I like at this stage of the draft. If I don't go TE early, he's a great value vs draft capital. I'd consider reaching if I was at the back half of round 5 and would not let him fall past the early 7th if the QBs in this area get to run on.
- Matt @DirtyAitFC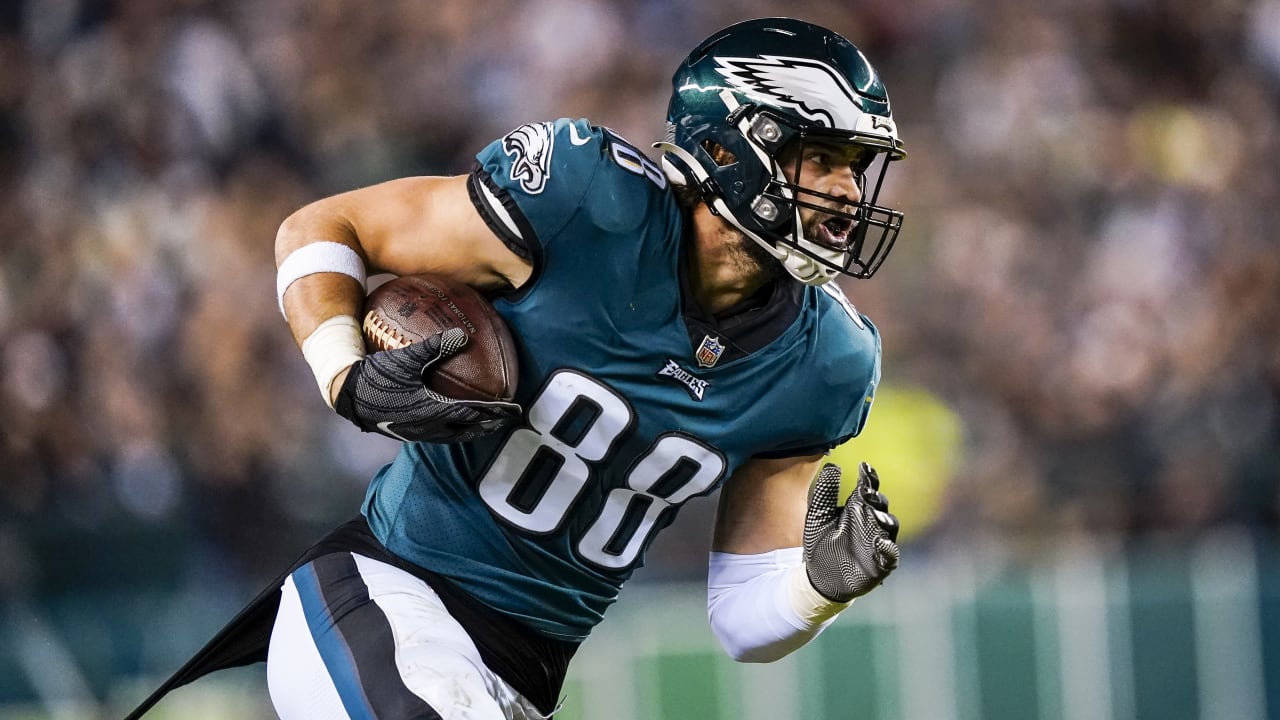 Michael Pittman, WR, IND
My guy for sure this year will be Michael Pittman. I believe that going from Carson Wentz to Matt Ryan is a huge improvement, and I expect a huge third-year jump. He served as a solid and consistent WR 2 last season, and I believe he has the upside to finish as a top 10 WR and possibly even top 5 this coming season. Depending on how your league mates view him, he could be a huge steal after the first few rounds. Matt Ryan has shown a willingness to pepper his top receiver with targets. Pittman is the most talented pass-catcher on the team, so I see no reason why Pittman can't have a huge season and be a league winner in the wide receiver position.
- Seth Q @SethQuinn14
Saquon Barkley, RB, NYG
Now that Saquon Barkley will be almost two full years removed from his ACL injury in 2020, the stud running back is ready to return to gridiron glory. With his current ADP having him go at the 2/3 turn, Barkley is an absolute steal if he is still lingering around the draft board at that time of your draft. Barkley's ADP will start creeping up as we get closer to the season, so take advantage of the market value while you can.
- Leo @smooth1074
Ezekiel Elliot, RB, DAL
I'm leaving tons of drafts with Ezekiel Elliot on my teams. Not even on purpose just because he falls so far down the board it would be ludicrous not to take him. Even if Elliot isn't carrying the football he is excellent in pass protection which keeps him on the field more. Because of that, he's heavily involved in the passing game with a 10.5% target share. Elliot is also dominant in the red-zone recording seven touchdowns on 17 carries inside the ten-yard line. Even while injured Elliot ranked 7th in carries, 11th in opportunity points, and 7th in total points. With Elliot's floor being one of the best out of the running backs, I expect to see him on a lot of championship teams.
- A.J. @fft_aj
Treylon Burks, WR, TEN
Is it really a surprise that I'm going with Treylon Burks? I don't care about asthma or the reports that he's out of shape. The fact is that Burks has produced at a high level against the best of college competition, facing the toughest schedule in the NCAA two years in a row. He put up the fastest on-field speed in college or the pros last year, hitting over 22 MPH, and he didn't just suddenly lose that ability. While Tennessee is a lower-volume passing offense, they have said that they are looking to use Burks in a Deebo Samuel role, giving him more opportunities than he would typically have as a receiver. His ADP has fallen to over 100, and at that position, his upside is too high to ignore.
- Britt @Britt_Flinn
Rob Gronkowski, TE, Free Agent
I know, I know. Gronk is retired. I also remember when his partner-in-crime Tom Brady retired this offseason before spectacularly un-retiring just a few weeks later. I feel like the Brady/Gronk "will they/won't they" shenanigans are just too much fun for them to resist. I'll be honest, they're fun for me too. I've re-tweeted this clip on about a dozen different occasions since it was originally posted 9 months ago and I can't wait to use it again.
- Matt @FFMadJester
---