Start and Sit Week 5
---
The calendar switched to October, and we're into Week 5 of the 2022-2023 NFL season! With some big injury news that hit last week, we're highlighting some new faces this week in our start-sit column. You're starting your studs no matter what. Don't get cute by sitting them over the players you see here. This article focuses on who we feel can give you an edge this week.
Starters at Quarterback:
Mac Jones, QB - New England Patriots
Mac Jones is in a smash spot against the Detroit Lions if he can go. The Lions, who give up the most fantasy points to the quarterback position, just made Geno Smith look like the league MVP. In deeper leagues, the backup for New England (Zappe) could make a serviceable QB2/streamer if Jones can't go. Look for Big Mac to serve up a super-sized W in Foxborough. - Matt Miles @DirtyAirFC
Trevor Lawerence, QB - Jacksonville Jaguars
The Houston Texans might look like a bad match-up on paper for Trevor Lawrence, but the devil is in the details. They faced an aging, immobile Matt Ryan in Week 1 and he lit them up for 352 yards in the 5-quarter tie. Last week, a hobbled Justin Herbert threw for 348 yards and a touchdown in four quarters of football, yielding only one sack and zero interceptions. T-Law will have a great shot at a get-right game this week. - Matt
Carson Wentz, QB - Washington Commanders
In the last couple of weeks, we have seen the evil Carson Wentz appear, AKA 'The Wentz' that has been mediocre at best the last couple few years. The veteran has totaled just 20 fantasy points during that span leaving fantasy managers searching for a replacement. Well if you have held on to Wentz this is the week to insert him back into your starting line-ups. This week he faces the Titans who have allowed three straight quarterbacks to throw for over 300 yards and have totaled eight touchdowns and two interceptions. Wentz should be in the running for a start in 12-team leagues. - Leo G. @smooth1074
Zach Wilson, QB - New York Jets
Now for this start is more for deeper leagues or two quarterback/super-flex leagues. And that is none other than Zach Wilson. Wilson made his 2022 return after suffering an injury in training camp. The Dolphins have allowed 1,005 yards passing, seven touchdowns, and have had zero interceptions over their last three games. If you are desperate or streaming quarterbacks in deep leagues, Wilson may be your man. Hey, and Wilson can even catch touchdowns too. - Leo
SITTERS at Quarterback:
Aaron Rodgers, QB - Green Bay Packers
The Davante Adams-less Packers have been a very streaky bunch. Adams has tried opening the game up with Romeo Doubs and Allen Lazard to mixed results. The 3-1 Giants have yet to allow a passer to throw over 215 yards and have only allowed four passing touchdowns. The Pack will likely win this game, but it will be on the legs of the running backs, not because of Aaron Rodgers. - Matt
Jameis Winston, QB - New Orleans Saints
I'll admit, this could blow up in my face, but I'm seeing too much risk in rolling out a hurt Jameis Winston if he's playing. Seattle is bad against passing, and New Orleans has a defense capable of holding a team like Seattle at bay with a lead. At best, if Jameis goes and has a lead into the third quarter, Dalton proved competent enough in London to eat a W for a relief run. - Matt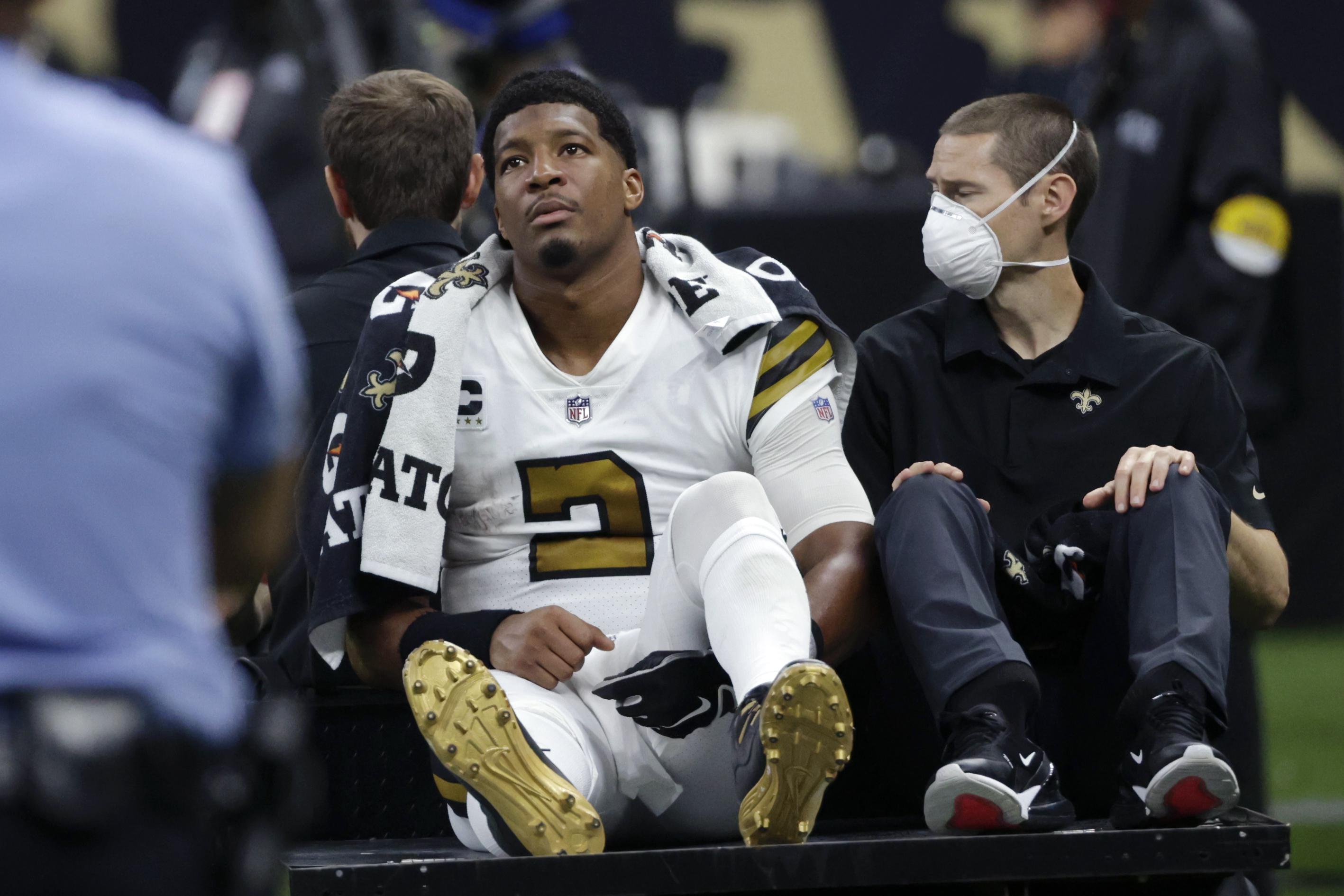 Matt Ryan, QB - Indianapolis Colts
This week Matt Ryan may be walking into a buzzsaw when the Colts visit the Broncos this Sunday in the Mile High City. The Broncos have allowed the third-fewest fantasy points to quarterbacks this season, including just three passing touchdowns. Look elsewhere for your starting quarterback this week if you want to win. - Leo
Starters at Wide Receiver:
JuJu Smith-Schuster, WR - Kansas City Chiefs
The Raiders are getting desperate and they face one of the best improv quarterbacks in Patrick Mahomes. The Raiders' defense let Jerry Jeudy and Cortland Sutton both achieve top-25 WR status last week. Look for a JuJu Smith-Shuster breakout game as Mahomes finds some good JuJu on Monday Night. - Matt
Adam Thielen, WR - Minnesota Vikings
Adam Thielen is Kirk Cousin's "Linus Blanket." Chicago has been pretty good against the pass, allowing only one wide receiver touchdown to date this season. With Justin Jefferson garnering attention, Thielen will be a PPR machine in the middle of the field. There might not be a touchdown, but Thielen is averaging eight targets over the last 3 weeks and could yield another nice eight-catch week to pad his stat line. - Matt
Chris Godwin, WR - Tampa Bay Buccaneers
All Chris Godwin did in his first game back from his hamstring injury is turn his 10 targets into seven receptions into 59 yards. Almost 13 PPR fantasy points is a nice return and enough for me to green light into our fantasy line-ups with concern. As a bonus, he gets to drink that Falcons' defense which is always a great medicine to get your fantasy players feeling better in a hurry. - Leo
Corey Davis, WR - New York Jets
Now just like his quarterback, Corey Davis should be considered a start in deeper leagues. Davis has finally been reunited with his boy Zach Wilson again. Last year these two showed flashes at times but due to Davis dealing with various injuries their chemistry was put on hold until last week. Now that Davis has teammates that are legit wide receivers playing alongside him, Davis can't be double-covered on every play. In their first game back together Wilson targeted Davis six times and that produced five receptions for 74 yards and a touchdown. The Dolphins allow the fifth most fantasy points to the wide receiver position, therefore making you contemplate starting Davis as a either WR3 or flex option this week, depending on your options. - Leo
Sitters at Wide Receiver:
Rondale Moore, WR - Arizona Cardinals
As much as I love the talent profile on Rondale Moore, it just seems like the Arizona offense funnels through Hollywood Brown first, then spread to the rest. Arizona is also facing the Philadelphia Eagles, a top-5 passing defense. - Matt
George Pickens, WR - Pittsburgh Steelers
George Pickens saw a 33% target share with a switch to Kenny Pickett, making him an instant waiver wire darling this week. Pump the brakes, though, as the rookie tandem faces BUffalo's top-ranked defense, on the road in what could be a cold, windy matchup. - Matt
Michael Pittman Jr., WR - Indianapolis Colts
As mentioned above the Broncos' pass defense has been one of the stingiest against the passing game this season. They have allowed only one passing touchdown to a wide receiver this season and only one wide receiver (Davante Adams) has gone for over 100 yards this season and it took nine receptions to do so. If you have better options on the roster you may want to fire them up over Michael Pittman Jr. this week. If not lower your expectations and maybe put him in as a flex. - Leo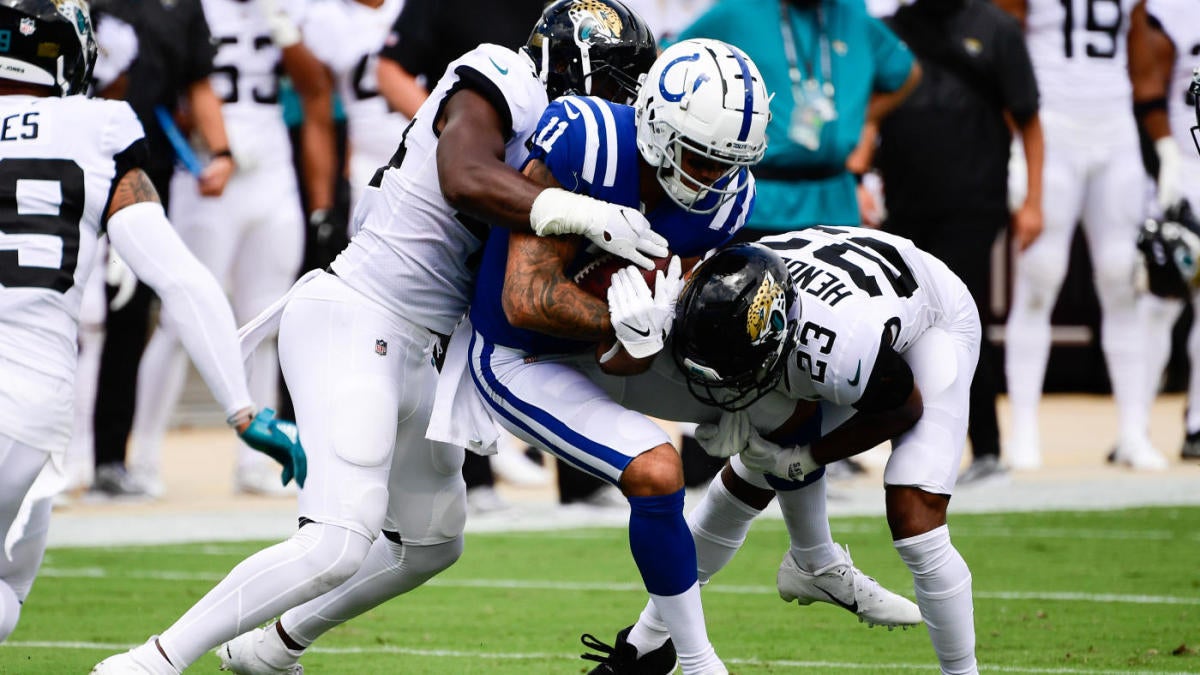 Michael Thomas, WR - New Orleans Saints
Michael Thomas started off the season hot like a firecracker but unfortunately has been slowed down by a toe injury. So far he has not practiced and he may be in danger of playing again this week. If Thomas so happens to become active this week I advise you to let Thomas play for at least a week to make sure he's good to go with that toe injury before putting him back into your starting lineups. - Leo
Starters at Running Back:
Rhamondre Stevenson, RB - New England patriots
We know the history of Bill Bellechek and his running backs. However, Rhamondre Stevenson has a profile and production that seems to complement their current offensive playbook in New England. Look for the short dump-off passes to keep this offense afloat against the Seattle Seahawks this week. - Matt
JK Dobbins, RB - Baltimore Ravens
With a 50% snap share last week, JK Dobbins is on the right trajectory for the 2022 breakout we've all been anticipating. Two touchdowns against the Bills last week means it's all systems go for Dobbins as the Ravens face the Bengals in a pivotal divisional game. - Matt
James Robinson, RB - Jacksonville Jaguars
Coming into the season it was Travis Etienne who had all the hype in the Jaguars backfield. But low and behold it's James Robinson who has been leading the way for Jacksonville. The Texans have been a turnstile this season allowing the most fantasy points to running backs in 2022. Houston has already allowed 515 yards rushing and five touchdowns to running backs in four weeks. Sign me up for that and get J-Rob in those line-ups this week. - Leo
Dameon Pierce, RB - Houston Texans
Another running back I'm looking to get in my line-ups this week is Dameon Pierce. After being the show stealer in pre-season, the Texans have finally decided to give Pierce the rock over the last few weeks. After only receiving 11 carries in Week 1, Pierce has steadily seen his involvement in offense increase and then his eruption for 131 yards rushing and a touchdown. Pierce also caught all six of his targets illustrating that he can be used in the receiving gave. Couple that with the Jaguars allowing the seventh most fantasy points to running backs and that looks like a good recipe for a start to me. - Leo
Sitters at Running Back:
Josh Jacobs, RB - Las Vegas Raiders
Bench last week's RB1?? I know you guys think I'm nuts. Let's face it, running back is as bad as TE lately, especially a second running back. If you can bench Josh Jacobs, that's awesome, but this is more like a temper your expectations. The Chiefs have held rushers to an average of 61.5 yards per game. Pass catching is a bit of a different story, but before last week's performance, Jacobs has only averaged 64 yards per game rushing weeks 1-3. - Matt
Rashaad Penny, RB - Seattle Seahawks
Rashaad Penny is another back fresh off of a spike week. Seattle travels to New Orleans, who have been pretty stout against running backs, allowing just the sixth-fewest fantasy points to the position. Penny was held to just 15 yards against the Niners just 2 weeks ago. This roller coaster ride is about to go downhill in week 5. - Matt
Ezekiel Elliott, RB - Dallas Cowboys
It's been tough to trust Ezekiel Elliott in your line-ups this year, especially with Dak Prescott out with his thumb injury. Elliot has faced plenty of eight-man fronts with Cooper Rush behind center. He should find it tough sledding against the number one rushing Rams' defense, which has allowed the fewest fantasy points to running backs. You may want to sit Elliott this week if you have another viable option. - Leo
Starters at Tight End:
Juwan Johnson, TE - New Orleans Saints
Let's face it, Tight End has been a dumpster fire this year. If you're a team looking at a dart throw, let me ask you a question. Who was the only team to make kyle Pitts startable in 2022? If you answered Seattle Seahawks, then you might already have Juwan Johnson on your roster. Johnson has been participating in the high 70% of routes and could be a solid play at the position this week. - Matt
Kyle Pitts, TE Atlanta Falcons
This year Kyle Pitts has been a total dud for fantasy managers. Pitts has scored double-digit fantasy points only once this season and that was in Week 3 against the Seahawks. This week the Falcons battle the Buccaneers who have been vulnerable against tight ends allowing them to score the fifth most fantasy points. So if your looking for a week to cash in on your prized tight end this may be the week to get him back into starting roster. -Leo
Sitters at Tight Ends:
Irv Smith, Jr, TE - Minnesota Vikings
Da Bears haven't been good at much this year, except defending against the Tight End position. Irv Smith, Jr. lost target share and split reps with Johnny Mundt last week and the other pass catchers in this matchup are going to feast. - Matt
Dalton Schultz, TE - Dallas Cowboys
Dalton Schultz returned to the Cowboys line-up last week after dealing with a minor knee injury, and what did the tight end have to show for it, zero receptions. Schultz did have a 90 percent snap share and has not been limited so it may be that Cooper Rush has only eyes for his receivers. It doesn't get any easier this week for Schultz as he will face the Rams' defense that has held opposing tight ends to the fewest fantasy points so far this year. So beware this should not end well for the Cowboys' tight end in Week 5. -Leo
Starters at Defense/Special Teams:
Minnesota Vikings Defense/Special Teams
The Minnesota Vikings D/ST is a solid play against the Bears this week. A low Bears total points implied and a middle-of-the-road ranking makes the Vikings a serviceable streamer this week. - Matt
Minnesota Vikings Defense/Special Teams
The Minnesota Vikings D/ST battle the Chicago Bears who have not been a fantasy juggernaut so far this season. The Vikings are at home and the Bears are allowing the sixth most fantasy points to opposing Defenses, making the Vikings an excellent streaming option this week. - Leo
Sitters at Defense/Special Teams:
Miami Dolphins Defense/Special Teams
it might seem counterintuitive to skip over a defense facing the Jets, but the 2022 Jets aren't your 2021 Jets. The 1-2 running game punch and solid receiving corps hide a lot of the QB flaws and have kept opposing teams honest. Look for the home dogs to disappoint the Dolphin's Defense starters. - Matt
New England Patriots Defense/Special Teams
A defense that I may be weary about this week is the Patriots' defense. They've only had one week where they scored double-digit fantasy points and this week they are going up against the rising Lions offense that has been on fire as of late and has allowed the fifth-fewest fantasy points to opposing defenses so far this Fall. - Leo
Matt Miles wants you to win in fantasy football. Follow him at @dirtyairfc on Twitter!
If you would like to discuss this further or have any questions feel free to reach out to me on Twitter at @smooth1074.
---