Thursday Takedown: Thanksgiving DFS Plays
---
I know Christmas is almost everyone's favorite holiday, but for me, it's Thanksgiving. Family, food, and, most importantly, football (ok, maybe not MOST important, but it's pretty special). This week, I'm breaking down the DFS options for all three games on Thursday, but it's a little different from my normal weekly article. Instead of only discussing values, I'm breaking down the best picks from all three tiers. Since there are only three games and one of them is Lions and Bears (way to ruin my appetite), there should be plenty of options to build a DFS lineup you can be thankful for.
(All pricing via DraftKings)
Quarterbacks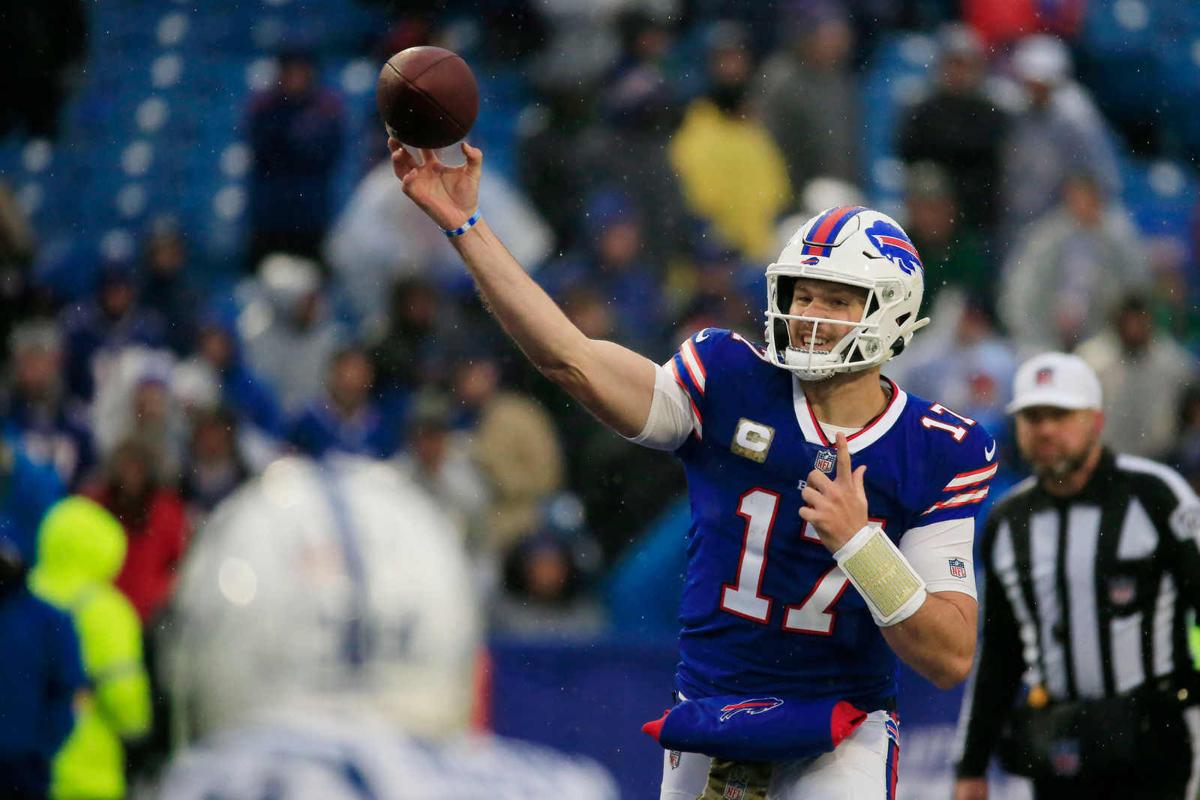 Top Tier: Josh Allen ($7,800)
Josh Allen hasn't looked the best over the past few weeks, but he should bounce back in a primetime matchup against the New Orleans Saints. The Saints are giving up the most points to the quarterback position per game over the past four weeks, averaging 25.86 each tilt. Allen has a deep arm and rushing upside, and the Saints did just allow Jalen Hurts to rush for three touchdowns in Week 11. Allen is the highest-priced quarterback for a reason.
Second Tier: Dak Prescott ($6,900)
Dak looked shaky at best during the loss to the Kansas City Chiefs, but he was also plagued by drops and missing weapons. CeeDee Lamb went out of the game at the end of the first half, and while there is concern about his availability on Thursday afternoon, Cowboys VP Stephen Jones isn't ruling him out just yet. The Raiders are on a three-game losing streak, and playing in AT&T Stadium in front of a rowdy home crowd isn't going to do them any favors. They're giving up 17.72 fantasy points to the quarterback position over the past four weeks, and Dak should blow this out of the water in a get-right game.
Lower Tier: Andy Dalton ($5,500)
Andy Dalton looked every bit the serviceable backup he is when he came in the game for a roughed-up Justin Fields Sunday. His completion percentage was awful at only 47.8 percent, but he still managed to put up 201 passing yards and two touchdowns. The Detroit Lions have improved their stats against quarterbacks recently, only allowing 11.63 fantasy points per game over the past four weeks. However, I think that's misleading, in that most teams have a positive game script against Detroit and don't need to throw. If Dalton gets forced into a negative game script, he could put up some numbers. Is this the sexiest option? No, but if you're looking for a quarterback on the cheap, Dalton is your guy.
Running Backs
Top Tier: D'Andre Swift ($7,600)
D'Andre Swift is the lone bright spot in that abysmal Detroit Lions offense. He's currently RB5 on the year in PPR formats and is averaging 18.6 points per game over the season and a slightly better 19.45 over the past six games. The Bears are a middle-of-the-road defense against running backs, but they are still allowing over 20 fantasy points per game to the position. Swift is the focal point of this offense, and he's going to get the touches to rack up points.
Second Tier: David Montgomery ($6,000)
Okay, David Montgomery didn't look great in Week 11's matchup against the Baltimore Ravens, but they were playing from behind and with a backup quarterback. He still averaged 4.1 yards per carry on 14 touches, so if he found the end zone, his day would have been salvaged. I think he finds the end zone Thursday, as the Lions have allowed 17 touchdowns to running backs throughout the season.
Lower Tier: Tony Pollard ($5,600)
Ezekiel Elliott is banged up; there's no denying that. I still think he gets work, but he won't be in the workhorse role. Queue Tony Pollard. In Week 11, after Zeke reaggravated his knee, Pollard carried the ball seven times for 50 yards! That's an average of 7.1 yards per carry. The Raiders are 27th against the run over the past four weeks, allowing 28.83 fantasy points per game. I look for Pollard to have a big day Thursday afternoon.
Wide Receivers
Top Tier: Stefon Diggs ($7,900)
Stefon Diggs has come alive the past month, averaging five touchdowns over the past five games. The New Orleans Saints are allowing 35.58 fantasy points to wide receivers over the past four weeks and have allowed five receiving touchdowns. Diggs has such a high floor with high boom potential that I have to have him in my lineup Thursday.
Second Tier: Darnell Mooney ($5,700)
The second-year receiver is clearly the WR1 in Chicago, and he's put an exclamation point on that designation the past two weeks. He's averaging 11 targets per game with a touchdown in each, hitting over 20 fantasy points. This matchup against Detroit should be cake. As I said with Andy Dalton, the Lions' stat line is a little padded just because everyone runs against them, but at his salary, If you want more food for thought (yes, pun intended), Allen Robinson didn't practice Tuesday. Mooney has the potential to exceed value before the game script gets too out of hand.
Lower Tier: Cedrick Wilson ($3,500)
Amari Cooper is out for Thursday and CeeDee Lamb is questionable to play, thrusting Cedrick Wilson into the WR2 role for the Cowboys. He'll have to avoid the case of the drops that everyone on Dallas seemingly caught in Week 11, but against the Raiders, who are allowing 31.27 fantasy points to wide receivers the past four weeks, I like him to return value on his salary.
Tight Ends
Top Tier: Darren Waller ($6,400)
Do I have to say much about Darren Waller? He's the TE3 on the season and is averaging 13.73 fantasy points per game over the past three. It's not great, but the tight end position is so volatile, it can benefit you to pay up. Dallas is giving up right around Waller's average to the position over the past four weeks, giving up 13.65 a game. Waller has a solid floor, and you know that the Raiders are going to have to throw to keep up with Dallas, so I'm willing to pay up for him in this slate.
Second Tier: Dawson Knox ($4,400)
Dawson Knox looked good last week against the Indianapolis Colts, even if the majority of the team did not. He put up 80 yards on six receptions and ended with 14 PPR points. The Saints are in the middle when it comes to defending the tight end, but they're still giving up 11.53 fantasy points per game. If you don't want to pay up for Waller, Knox is a great pivot.
Lower Tier: Nick Vannett ($2,500)
The Saints just lost Adam Trautman for the next 4-6 weeks with an MCL sprain, leaving a gaping hole on their offense. Early season darling Juwan Johnson was a healthy inactive in Week 11, leaving the door open for offseason acquisition Nick Vannett to get the nod as the starting tight end while Trautman is out. The Buffalo Bills have only allowed 8.6 fantasy points per game to the position over the past four weeks, but if you want value in this slate, Vannett is an intriguing option.
Happy Thanksgiving, everyone! I hope y'all eat lots of food, see lots of football, and win lots of money! Follow me, @Britt_Flinn, on Twitter for more DFS and season-long advice.
---