Waiver Wire: Week 5
---
Week 4: in the books. On to Week 5, where we see our first set of "OFFICIAL" byes, not counting last week's COVID-19-related byes from Pittsburgh and Tennessee. We'll be going a little deeper into these waiver adds now that we've got less of a player pool to work with. We won't have any Green Bay Packers or Detroit Lions for Week 5.
Here at Fighting Chance Fantasy, we're taking a four-pronged approach with Leo Grandio covering quarterbacks and tight ends, Steve Rapin covering the running backs, Kevin Tompkins covering the wide receivers, and Corey Heitpas rounding out the adds in Dynasty formats!
Quarterbacks (Leo Grandio)
First of all, check to see if these quarterbacks are available and are floating around in your league's waiver wire. I would prioritize them in this order:
Ben Roethlisberger, PIT (65.7% rostered)
Jared Goff, LAR (55.0% rostered)
Carson Wentz, PHI (59.9% rostered)
On to our list!
Gardner Minshew, JAX
(46.1% rostered)
The Gardner Minshew train got back on track in a huge way in Week 4 and even though the Jaguars came out in the short end of the stick in the final score, Minshew was able to out-duel Joe Burrow in the stat line. Minshew passed for 351 yards and two touchdowns with one interception. For Week 5, the Jaguars head to Houston for a divisional match-up with the Texans which has the potential of another shootout. He should be owned in 12-team leagues.
Teddy Bridgewater, CAR
(9.8% rostered)
Oh, has Teddy Bridgewater finally gotten his groove back? It appears so, as Mr. Bridgewater not only threw for 276 yards and two touchdowns but he also ran for 32 yards and a touchdown. In Week 5, they face the Falcons who are giving up the most fantasy points to the quarterback position and Teddy B should be in line for a great outing. He's a must-own in 12-team leagues.
Justin Herbert, LAC
(11.7% rostered)
Tyrod Taylor might not get his job back if Justin Herbert continues to play the way he's been playing. Herbert went toe-to-toe with the GOAT TB12 and almost pulled off the upset. Herbert provided 290 yards and three touchdowns and one interception as the Chargers came up short against the Buccaneers 31-38. In my opinion, Head Coach Anthony Lynn should continue to roll with the rookie as his time is now. Should be owned in 12-team and keeper leagues.
Other QB in Consideration:
Ryan Tannehill, TEN (37.39%) - Ryan Tannehill comes off an unexpected bye and faces a surprising generous Bills defense that allows the ninth most fantasy points to quarterbacks.
Kirk Cousins, MIN (15.7%) - Kirk Cousins could be in store for a shootout with a match-up with Mr. Unlimited Russell Wilson at Seattle this week. Good streamer option for fantasy managers in a bind.
Daniel Jones, NYG (27.6%) - Now is the time to add Daniel Jones. The Giants face the Cowboys this week who have been lit up like a Christmas tree all season. This is where Jones will start to turn things around for his season.
Baker Mayfield, CLE (20.2%) - Baker Mayfield did not pass for a lot of yards when he had a great opportunity to go wild against the Cowboys but at least threw a couple of touchdowns and may be an option for deeper leagues.
Running Backs (Steve Rapin)
Since I target running backs that are below 50% for the list, I first want you take a peek at your list of free agents and see if Joshua Kelley is available and he would be priority one. He is owned in only 56% of leagues on Yahoo! and 70% on ESPN so there is a chance he could still be available in your league. With Austin Ekeler's injury, Kelley could earn an even larger role than he's seen over the next month or two.
D'Ernest Johnson, CLE
(4% rostered)
Nick Chubb exited Week 4 with an MCL injury and Adam Schefter is reporting he could miss approximately six weeks. After Chubb exited, D'Ernest Johnson saw 13 rushing attempts and turned it into 95 yards, while Kareem Hunt saw 11 carries on the day for 72 yards and two scores. Kevin Stefanski isn't afraid to utilize two backs and while Hunt is the biggest beneficiary of Chubb's injury, I can see Johnson seeing a significant enough role to be in flex consideration for the foreseeable future.
Justin Jackson, LAC
(6% rostered)
Like Kevin Stefanski, Chargers' head coach Anthony Lynn has shown he likes to utilize two running backs in his system, and with Austin Ekeler likely to miss four to six weeks with a hamstring injury, I wouldn't be surprised in the least if Joshua Kelley and Justin Jackson both see significant roles during Ekeler's absence. Joshua Kelley has only seen 17 rushing attempts in the last two games after seeing 35 in Weeks 1 and 2, and after losing a fumble in consecutive weeks, Jackson could be in line for more work than some may think. Kelley should still see more work initially, but the opportunity it there for Jackson to seize the lead role should Kelley's struggles continue.
Damien Harris, NE
(32% rostered)
Pats rookie running back, Damien Harris was removed from IR and thrust immediately into action as he totaled 17 carries for 100 yards in New England's Week 4 loss to the Chiefs. While it was a nice start to his career, he comes with some warning signs. First, he only played on 31% of the team's snaps and James White and Rex Burkhead should handle most of the receiving work. He also was in a perfect situation with Cam Newton and Sony Michel sidelined, to handle a larger load for the offense.
Newton should be back in a week or two and Michel isn't expected to miss more than the three games he has to serve to be on the placed on the I.L. so I don't foresee this type of volume in the rushing game for very long. Finally, never trust Bill Belichick and running backs. It's the first rule of fantasy football. With that said, if you are in need of a back for the next couple of weeks, albeit one with some risk, Harris should be on your list of targets to try and snag.
Chase Edmonds, ARI
(36% rostered)
I will be a little blunt here...Kenyan Drake is playing like shit this season. Despite averaging almost 17 carries per game, Drake hasn't topped 86 yards rushing (3.8 yards per carry), only has one rushing touchdown (also one receiving score), and has been virtually non-existent in the passing game as he's only seen five targets through four games. Chase Edmonds has looked more explosive and has assumed the lead role on passing downs as he's seen 17 targets on the season. Kliff Kingsbury is a smart guy, and it shouldn't take him much longer to see that Chase Edmonds needs to have a larger role in this offense. Grab Edmunds where you can because I have a feeling that in a week or two, we could be talking about Edmonds as the waiver wire pickup of the year.
Other RB in Consideration:
Alexander Mattison (37%) - Alexander Mattison is still one of the best handcuffs in the NFL and he's one injury away from being an RB1 in most weeks.
Ke'Shawn Vaughn (6%) - While not a long term solution, Ke'Shawn Vaughn could benefit in the short term from injuries to Leonard Fournette and LeSean McCoy.
Wide Receivers (Kevin Tompkins)
First of all, check to see if these receivers are available and are floating around in your league's waiver wire. I would prioritize them in this order:
Deebo Samuel, SF (81% rostered)
Hunter Renfrow, LV (50.7% rostered)
Russell Gage, ATL (72.7% rostered)
Corey Davis, TEN (51.4% rostered)
Emmanuel Sanders, NO (71.2% rostered)
On to our list!
Tee Higgins, CIN
(36.6% rostered)
Joe Burrow has passed for 300 yards in his last three contests, and while A.J. Green still continues to start (for some reason), Tee Higgins is out here balling out. It just so happens in those last three games, Higgins has seen no less than six targets, racking up nine catches, 117 receiving yards and two touchdowns on 16 targets in his last two contests.
Higgins is now a full-time player in this offense and while next week's matchup in Baltimore is concerning, there are plenty of great matchups for the Bengals to exploit after that game and later on into the season.
With A.J. Green's targets, he's likely to see the field more than Higgins, but not for much longer if Higgins continues to out-produce him. Higgins should be a priority add in all formats as a player who can be a WR3 or better moving forward after next week.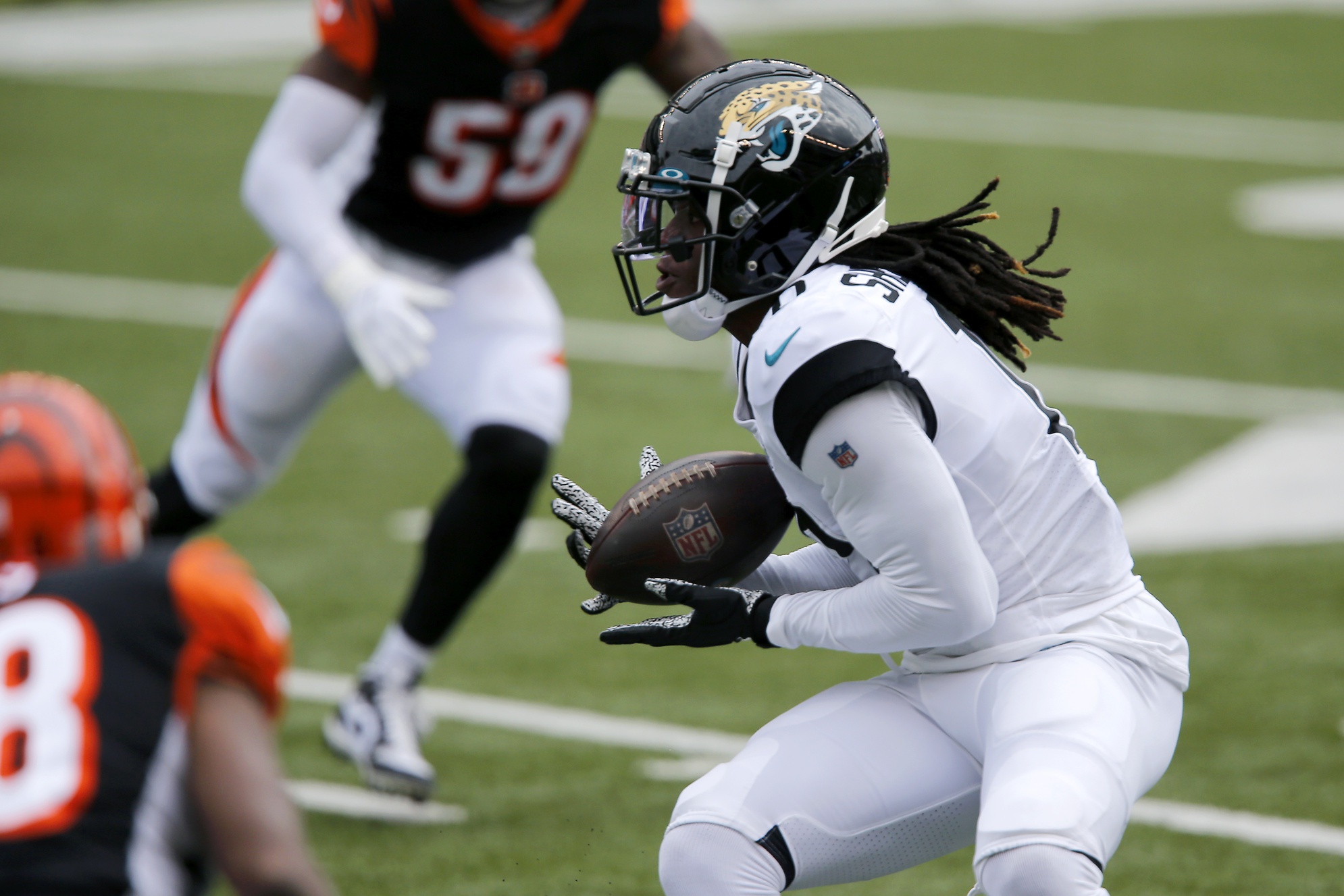 Laviska Shenault, JAX
(35.7% rostered)
With five catches in his last two games including Week 4 where he added a career-high 86 yards receiving, Laviska Shenault seems like an imminent breakout waiting to happen. He's always going to add a rush or two into the equation as well and he's totaled 20 targets on the season, extrapolating to 80 targets for the full season from the young rookie from Colorado.
Shenault and the Jags get Houston and Detroit next before their Week 7 bye, so if for some reason Shenault is available in your league, scoop up him. He's getting more and more involved into the offense and this could be your last shot at a very dynamic and promising rookie in an offense that will pass quite a bit.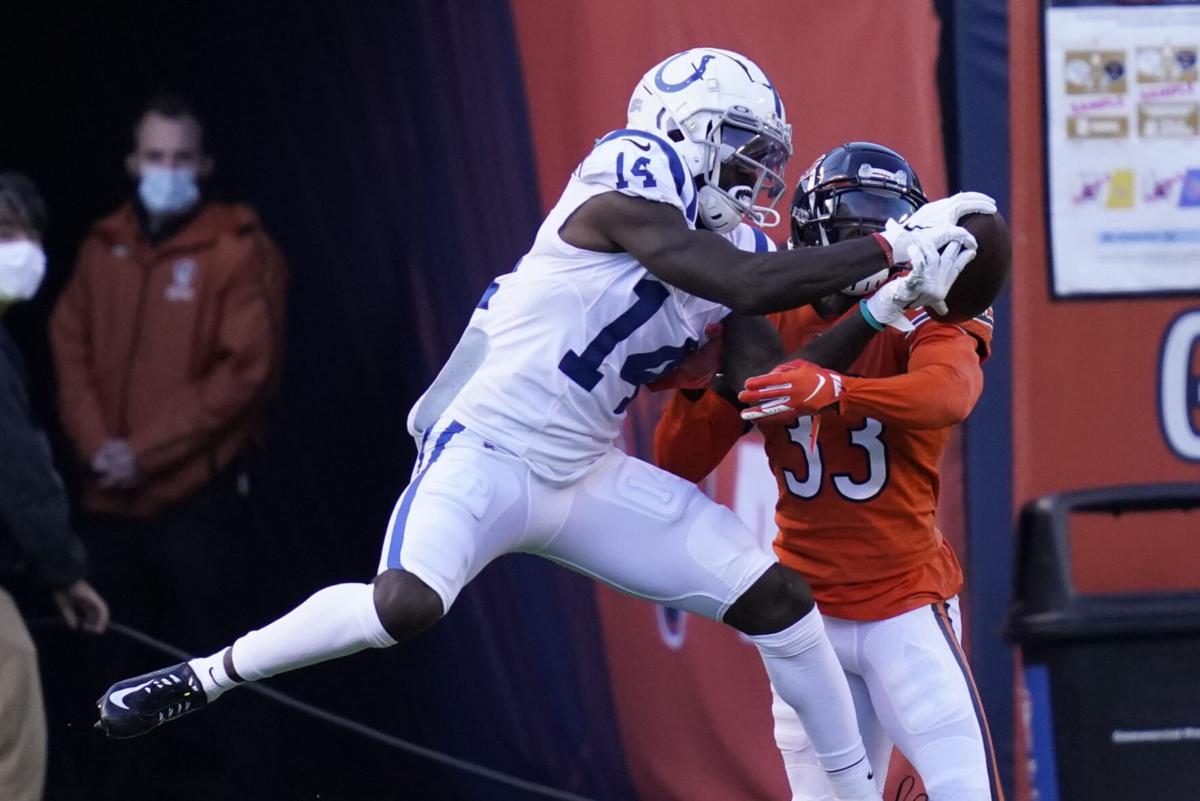 Zach Pascal, IND
(3.4% rostered)
Eventually, the side of the coin you call will hit. While the state of the Indianapolis Colts' passing game is something of a mess with T.Y. Hilton not producing and the injuries piling up, Zach Pascal has stepped in to see significant work in the stead of Michael Pittman and Parris Campbell.
Pascal had a 28% target share in Week 4 with 111 air yards, so while he only caught three of the team-leading eight targets for 58 yards in Week 4, his stock should be trending up based on opportunity and eventually, that side of the coin you call will hit. We saw Pascal be very relevant amidst a ton of injury woes in Indianapolis last season, so the precedent is there for Pascal to be a thing in fantasy.
The 3-1 Colts have a very soft set of games coming up, going to Cleveland, coming home to face the Bengals, and then back out to Detroit. Pascal should have plenty of opportunity so I'm adding him where I can as a bench stash at the very least with room to grow.
Mecole Hardman, KC
(41.7% rostered)
It's not a big jump, but we're finally starting to see some traction with Mecole Hardman. Understandably, quite a few people abandoned ship on Hardman after Week 2 after he'd totaled four targets over those two weeks.
He's likely an injury away from being an every-week starter in fantasy, but let's not discount his increasing role in arguably the best offense in football with one of the best quarterbacks. Hardman has scored touchdowns in his last two, has a combined 10 targets, and has been a WR3 or better in those same weeks.
Hardman should absolutely be rostered in all leagues as a boom-bust play going forward with opportunities for more.
Darnell Mooney, CHI
(0.9% rostered)
Don't sleep on Darnell Mooney. Mooney has looked excellent in spurts and was second on the Bears In targets with nine yesterday as the Bears threw the ball 42 times in their loss to the Colts. Those nine targets traveled 123 air yards, compared to Anthony Miller's five targets traveling 42 air yards. Spreaking of Miller, over these four weeks of the 2020 season, Mooney has out-snapped and out-targeted Miller.
It's a bit of a changing of the guard here in Chicago, and while Mooney shouldn't ever be expected to attain a target share like Allen Robinson, he's a very speculative and interesting pickup that's becoming more and more involved in his offense. Nick Foles is adding some floor to this offense in terms of being able to get the ball to his receivers much more consistently, so I consider Mooney a bye-week option going forward and if something happens to narrow the target tree in Chicago, Mooney may be a flex option regardless of byes.
Alshon Jeffrey, PHI
(18.3% rostered)
Alshon Jeffery's inclusion here is more of a "hey, don't forget about me!" pick. Jeffery returned to practice last week and is likely a couple of weeks away from returning to game action, but when he does, the Eagles and Carson Wentz will welcome their #1 wide receiver with open arms given the attrition at the position.
If you have room on your bench, an empty IR spot, or whatever your league allows, stash him away for a rainy day and after he gets healthy, he should be at least a WR3 for your roster over the halfway point into fantasy crunch time if he's given a clean bill of health following his Lisfranc surgery in his foot.
Isaiah Ford, MIA
(0.8% rostered)
Any time you see a player notch double-digit targets like Isaiah Ford did in Week 4, you take notice. Any time you see that player notch double-digit targets at the expense of a player with a ton of preseason hype that has failed to capitalize on the opportunity, you certainly need to pay attention.
Preston Williams has seen no more than three targets in his last two games and has just six receptions on the season through four games. Ford has seen at least nine targets in two of his last three contests and it's certainly possible that he could have eclipsed Williams as the #2 receiver in Miami. There's certainly a battle there one would think.
With Miami set for negative game scripts in most of their remaining matchups and a gunslinger at quarterback (for now), Ford should see additions in 12-team leagues and as a priority in deeper leagues with the opportunity af-FORD-ed to him.
I need some coffee. Go grab Ford.
Other WR in Consideration:
Patrick could be a sneaky WR3 for that matchup if Stephon Gilmore sees a bunch of Jerry Jeudy and we continue to see Brian Hoyer in that Patriots' offense capping their upside for scoring.
Tight Ends (Leo Grandio)
Check to see if these tight ends are available in your league's waiver wire first. I would prioritize them in this order:
Jonnu Smith, TEN (85.5% rostered)
Jimmy Graham, CHI (69.0% rostered)
Rob Gronkowski, TB (72.5% rostered)
On to our list!
Dalton Schultz, DAL
(46.0% rostered)
Dalton Schultz continues to be targeted heavily in this high-octane offense for the Cowboys. Schultz was targeted eight times and brought in four receptions for 72 yards and a touchdown against the Browns. He may have a tough match-up this week versus the Giants as they are allowing the sixth-fewest fantasy points to tight ends, but he is a must-add in all leagues.
Robert Tonyan, GB
(9.7% rostered)
After Monday Night's performance, Robert Tonyan will be one of the most added tight ends this week. With Davante Adams and Allen Lazard out for the Packers, it was Tonyan that pulled the slack for the receiving game. He exploded for six receptions for 98 yards and three touchdowns. The only bad thing about picking up Tonyan this week is that he will be on bye this week so it will take another week to unleash him on your league mates. Must own in 12-team leagues.
Mo Alie-Cox, IND
(8.6% rostered)
Mo Alie-Cox has been impressive this year by either receiving over 100 yards or scoring a touchdown over his last three games. This week Alie-Cox should feast on the Browns as they have allowed the sixth-most fantasy points to tight ends. Jack Doyle has only received one target over his last two games making Olie-Cox the tight end to own in this offense. He is a must-add for 12-team leagues.
Other TE in Consideration:
Eric Ebron, PIT (33.2%) - Eric Ebron comes off an unexpected bye but has a good match-up this week against the Eagles who just got roasted by George Kittle on Sunday Night. Ebron is a streaming option this week.
Cameron Brate, TB (0%) - With O.J. Howard out with an injury, it should open the door for more looks for Cameron Brate who already grabbed a touchdown last week.
Dynasty Adds (Corey Hietpas)
D'Ernest Johnson, RB, CLE
After the Chubb injury, D'Ernest Johnson stepped up in a big way against Dallas as he led the Browns in rushing attempts (13) and rushing yards (95). Kareem Hunt will be the starter going forward, but Sunday's game showed that Stefanski will keep the two-back theme going, which means that Johson is going to have a lot of opportunities to show what he can do. The future is murky, but Johnson has the chance to earn a bigger role in the offense while Chubb is healing. He is definitely worth an add as he'll be flex worthy while Chubb is on IR, and he could earn himself a bigger role in the backfield if he performs well with the touches he's given, even after Chubb returns.
John Hightower, WR, PHI
An opportunity has come on strong for John Hightower due to injuries to four of the Eagles' top receiving threats (Jackson, Jeffrey, Reagor, and Goedert). As a result, Hightower has played over 80% of snaps the past two games and gathered two receptions in both. The stat lines haven't been great yet, but Hightower will continue to have opportunities due to injuries, and he has the chance to carve out a relevant role in this Eagles offense going forward.
Deejay Dallas, RB, SEA
With Carlos Hyde sitting out this past weekend, Travis Homer and Deejay Dallas both rotated in behind Chris Carson. Homer had four carries for 5 yards and one reception that went for 3 yards, while Dallas had two carries for 8 yards and two receptions for 15 yards. Although each had very limited work, Dallas did more with his touches than Homer did, and that could mean more opportunity for Dallas going forward. With Carlos Hyde still banged up, Dallas should have more opportunity to get some work behind Carson this weekend and vault himself into a steady role in this offense. I'd look to add and hold Deejay to see the role he develops for himself
Freddie Swain, WR, SEA
Sticking with Seattle, Freddie Swain has been earning a bigger role in the offense. He's played over 40% of snaps the last two games and increased his targets to three against Miami. He caught two of those targets and took them for 32 yards. Although not mind-blowing, it's very promising that Swain is seeing more targets and gaining more yards than he was earlier this season. Swain isn't flex-worthy yet, but he's getting close, and if his role keeps growing as we've seen the past few weeks, he could turn into a steal for a free waiver claim.
You can follow Steve @fantasygeek37, Kevin @ktompkinsii, Leo @smooth1074, and Corey @Corey_Hietpas!
---