Week 11 DFS Values
---
Although Week 10 wasn't quite as crazy as Week 9, there were still several upsets and overall weird things. Tom Brady and the Bucs got beat by Washington, Mike White finally fell from his fantasy throne, and the Lions tied the Steelers? The unpredictability of this league is part of the fun, but to make it easier to navigate, I put together a list of DFS value plays for Week 11.
(Salaries are from DraftsKings' Classic 12-Game slate for November 21, 2021.)
Quarterbacks
Derek Carr vs. Cincinnati Bengals ($5,900)
We all know the Las Vegas Raiders looked absolutely atrocious against the Kansas City Chiefs on Sunday night football in Week 10, but Derek Carr still walked away with 261 passing yards, two touchdowns to one interception, and a passer rating of 99.8. He should be looking to get right this week against a Cincinnati Bengals team in free fall. In fact, over the past four weeks, the Bengals have allowed the second-most fantasy points per game to quarterbacks. Carr hasn't posted back-to-back duds yet this season, and the team should have an extra receiving piece with the acquisition of DeSean Jackson. His ceiling isn't quite as high as some of the studs at quarterback, but if you want to free up cap space for a stud at another position, Carr is your guy.
Cam Newton vs. Washington Football Team ($5,100)
Yes, I usually talk against jumping on the shiny new thing, but Cam Newton has been around for years, and we all know what he offers in the way of fantasy production. He's not going to get you crazy points with passing yards, but his rushing upside is INSANE. If you don't believe me, he posted one rushing touchdown and one passing touchdown in Week 10 while only playing 12% of the snaps. He's going to be the starter this week in a tasty matchup with the Washington Football Team who is allowing the most fantasy points per game to the quarterback position. Washington is also without star pass rushers Chase Young and Montez Sweat, so smash that roster button on Cam this week.
Wide Receivers
Jaylen Waddle @ New York Jets ($5,600)
This time of year, it's important to look at recent trends and not bulk season-long stats. Such is the case for Jaylen Waddle and his Week 11 opponent, the New York Jets. Since Week 6, Waddle is averaging 16.12 fantasy points per game in PPR leagues. Conversely, although their season stats place them 18th against the wide receiver position, giving up 35.69 fantasy points per game, the Jets have bottomed out. Over the past four weeks, they rank dead last against the wide receiver position, giving up a whopping 47.31 points to the position. Waddle should have Tua Tagovailoa back this week, boosting his floor, and, in this matchup, I love him to return value and then some.
Darnell Mooney vs. Baltimore Ravens ($5,200)
In another case of receivers who have stepped up in recent weeks, Darnell Mooney has come on strong down the stretch. Part of this is due to the improved play of rookie quarterback Justin Fields, but Mooney has done enough on his own to overshadow fellow receiver Allen Robinson II. In another case of defensive regression, the Ravens went from 8th best against the wide receiver to the position to 28th in the past four weeks. Over that span, their defense is allowing 40.3 points per game to the receiver. Mooney should continue to build on the success of his last few games in Week 11, and I look for him to quadruple value.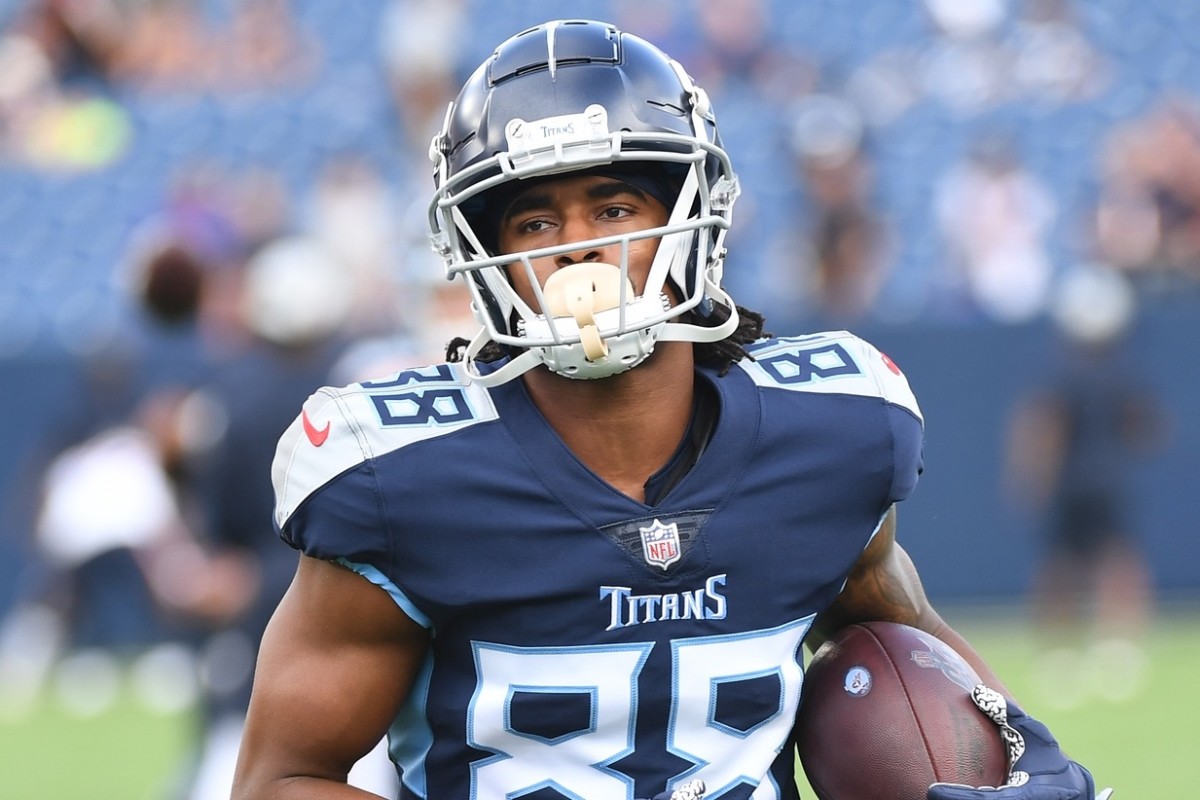 Marcus Johnson vs. Houston Texans ($3,500)
The placement of Julio Jones on IR along with the departure of Josh Reynolds thrust Marcus Johnson into the WR2 role in Week 10. In that game he saw 17% of the team's total target share, putting up 100 yards on four catches. The matchup in Week 11 against the Houston Texans is tasty, as they have allowed the second-most points per game to wide receivers (47.17) in the last four games. Desmond King II will likely be tasked with covering A.J. Brown, leaving Johnson to matchup with Terrance Mitchell. Mitchell is dismal at allowing receivers to get open, ranking 143rd in the league in target separation this season, so Johnson should have no problem breaking away. At $3,500, Johnson is going to return exponentially on his salary.
Nico Collins @ Tennessee Titans ($3,300)
The rookie wide receiver has gotten lost in the shuffle this season due to a stint on injured reserve, the loss of his starting quarterback, and just overall poor play by the Houston Texans, but Nico Collins is slowly making his mark in the NFL. Over the past four games, he's seen an average of five targets per game, and his snap count has steadily increased. Getting veteran quarterback Tyrod Taylor back in the lineup can't hurt him either. Although the Tennessee Titans have improved on defense from the first of the year, they are still giving up 46.08 points per game to wide receivers on the season and 39.48 points per game in the past four weeks. Collins only has to score 10 points to triple his value, and if you're looking for a cheap flyer, he has the best chance of anyone in this tier to break out.
Runnings Backs
Kenyan Drake vs. Cincinnati Bengals ($5,200)
Let's not sugar coat it; the Raiders got absolutely clobbered last week against the Kansas City Chiefs, They'll be looking to get right this week against the Cincinnati Bengals, and a balanced rush attack will be a big part of that. The Bengals are allowing 35.63 fantasy points per game to running backs over the past four weeks, and I think the game script will be much more neutral than it was last week. Interim head coach Rich Bisaccia has worked Drake more into the passing game since taking over, and the Bengals have allowed 262 yards on 20 receptions in the past four weeks. If they work Drake into the pass-catching role as they have, he should return value and then some.
Jeff Wilson Jr. @ Jacksonville Jaguars ($5,100)
News broke Tuesday afternoon that San Francisco's lead running back, Elijah Mitchell, sustained a broken finger in Monday night's beatdown of the Los Angeles Rams. The details are sparse, but we do know the injury was severe enough to require surgery to insert a pin. Jeff Wilson Jr. has only been active for two weeks, but if Mitchell doesn't go or plays in a limited fashion, it seems that Wilson will be the next man up (because let's be honest, Trey Sermon leased Shanahan's doghouse). The Jacksonville Jaguars are allowing 23.64 fantasy points per game to the running back this season. Meanwhile, the 49ers run the seventh-most percentage of run plays per game in the league (45.6%). Wilson should see the volume, and he has a primo matchup, so I expect this to be his breakout game of the year.
Tight Ends
Cole Kmet vs. Baltimore Ravens ($3,400)
Since Week 7 and the emergence of Justin Fields, Cole Kmet has seen at least six targets per game. It's looking like this offense is finally gelling, and Kmet is a big part of it. Week 11 features a positive matchup against the Baltimore Ravens. Over the past four weeks, the Ravens are allowing the seventh-most points per game to the tight end, and they're allowing the third-most on the season. Kmet has led the team in targets in two of the past three games, and I expect him to continue this streak in Week 11. Slide him in your lineups if you want a solid floor at an otherwise up in the air position.
Jack Stoll vs. New Orleans Saints ($2,900)
Dallas Goedert left Sunday's game with a head injury and was later placed in concussion protocol, leaving his status for Week 11 uncertain. If Goedert is indeed sidelined for the game, Jack Stoll is in for an increased role against the New Orleans Saints. Although this matchup looks intimidating on paper, the Saints defense has lost a step recently. Over the past four weeks, the Saints have allowed 10.05 points per game to the tight end. Those numbers aren't crazy by any means, but at $2,900, Stoll should easily return value.
There you have it! Let me know what you think and if a player cashes for you this week by following me on Twitter @Britt_Flinn. Good luck!
---